In Croatia they are currently selling Catrice Limited Edition Baroque Glamour. I invite you to walk with me among eyeshadows, nail polishes and everything else colorful, that makes as (more) beautiful.
All Over Powder 07 Baroque Shine is the most beautiful item for me, even thou I still don't know in which way will I be using it. Almost certainly not as all over powder since its to shimmery. But I just had to have it, since it was so beautiful and last one standing on the shelf. The lightest part can be used as highlighter, middle and bottom part for bronzer or eyeshadow.
Eyeshadow 01 Beige Velvet is nicely pigmented and perfect for combining. There are three more eyeshadows in this edition, but they didn't impress me. They looked very pretty on Catrice official site, but they were not colorful enough for me when I tested them in store.
All Over Powder and Beige Velvet eyeshadow: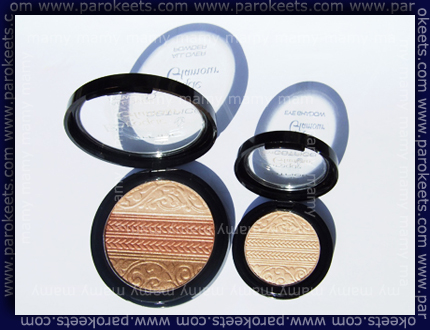 Swatch of All Over Powder: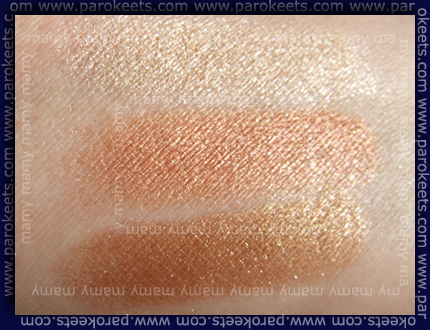 Metallic Liquid Eye Liner 03 Luscious Green is pretty, warm green, color with good staying power and just right amount of sparkle. There is also one available in black.
Lipsticks come in three colors. The one in the picture is 06 Golden Brown. It glides on easily, is not very pigmented and warm colored. You could say it's more gloss than lipstick. Other two from LE are very pigmented.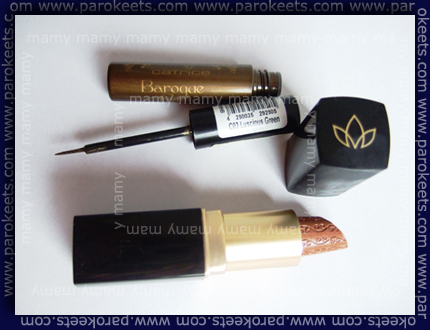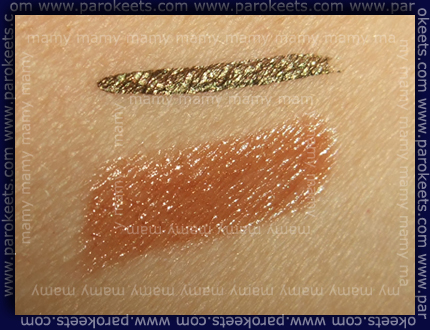 Polishes present themselves to you: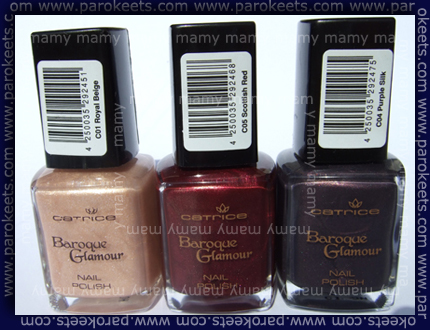 First from the left is 01 Royal Beige.
I used two coats, but three would be better, since the polish is watery and not very opaque.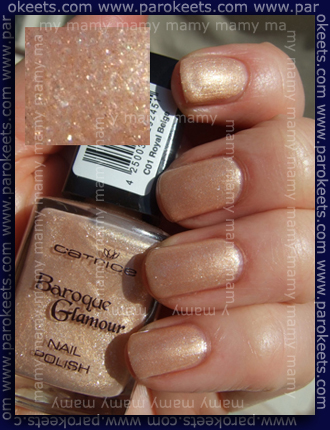 Second one is a must have – 05 Scottish Red (two coats).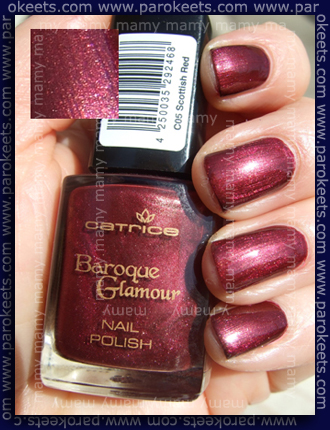 Third one is 04 Purple Silk – first one to land in shopping basket. This one looks better in bottle than on nails, but is still interesting and pretty color.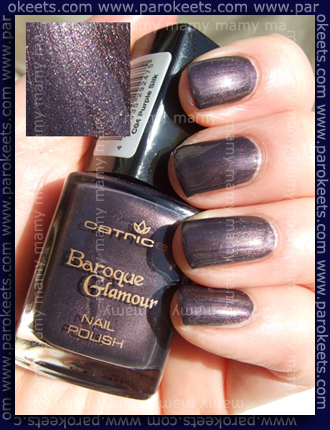 Pictures were taken in sunlight. That was the only way I could capture realistic colors.
I loved moste of this limited edition. With great pleasure I chose items that would be interestin to you and useful for me. As soon as I can, I will wisit DM in hope that new LE will already be on sale.