V Müllerju sem pred časom zasledila kolekcijo Elements of Earth znamke Manhattan. Od celotne kolekcije me je pritegnil le krem opečnato rdeč lak za nohte (odtenek z oznako 94S). Lak je zelo dobro pigmentiran, po konsistenci je nekoliko gostejši. Nanaša se lepo in brez prog. Barva je zelo nenavadna in hkrati zanimiva. Ne gre za klasično rdečo ali rjavo, saj je nekje vmes. Včasih je bolj rjavo – rdeč, včasih pa bolj rdeče – rjav. Nikoli pa ni prav rdeč ali prav rjav. Morda so pri Manhattnu mislili na rdečo zemljo (terra rosa), ko so mešali tale odtenek… Meni je zelo všeč!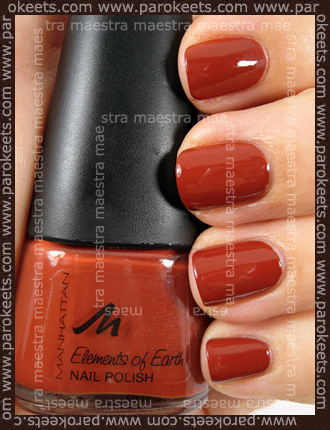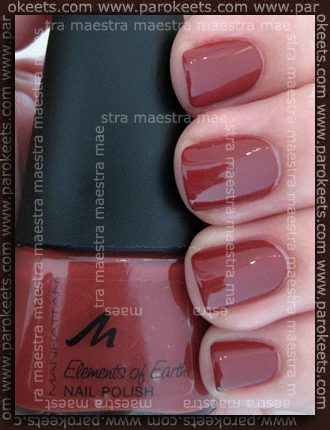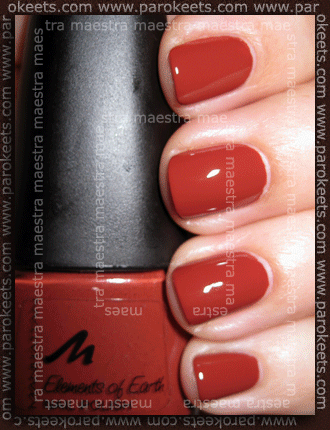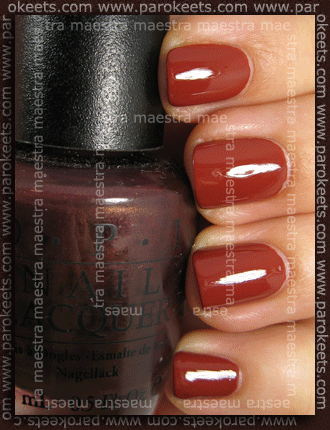 Na vseh fotografijah sta dva nanosa. Z obstojnostjo sem bila zadovoljna, saj je na mojih nohtih zdržal dobre tri dni. Odstranila sem ga, ker sem se ga naveličala. Obrabljen je bil minimalno. Za podlak sem uporabila Pretty Woman Ridge Filler, za nadlak pa INM Out The Door.
Kakšen se zdi vam? Vam je všeč ali je preveč drugačen?