We had a debate on the ARS forum, where some of the participants mentioned that their mineral eyeshadows look duller on TFI than UDPP or CS Eye-Poxy. I decided to compare TFI and UDPP. Eye-Poxy comparison will follow.
I applied Sweetscents eyeshadows in one column over TFI and over UDPP in the other one. I asked everyone in my vicinity which column do they find brighter. All of them said, they look almost the same, maybe eyeshadows over TFI look little bit more alive. I won't even talk about their comments like: you're wearing Indian camouflage colors, you look like you just came from allergies testing … Couple of hour later I asked the same victims, what do they see. They said that colors over UDPP look little bit washed out, but just a little bit.
I never use just one base – it just isn't enough on my eyelids. Right now I like combination of Revlon Eyeglide creme eyeshadows over TFI.
Lets take a look at Sweetscents shadows that participated in my experiment. :D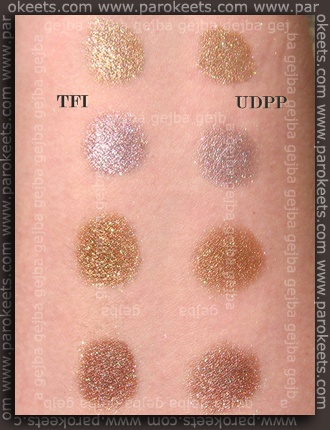 From top to bottom: Fever, Enchanted, Hazelnut and Espresso. I find Enchanted to be the most interesting one. It can change colors faster than the chameleon. I can be silver, silvery-purple, lavender …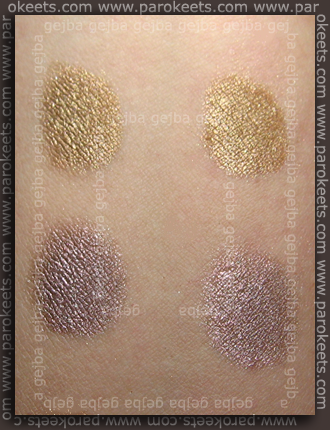 I mostly use Fever to liven up monotone brown make-ups. This is beautiful goldish-beige eyeshadow with touch of brown.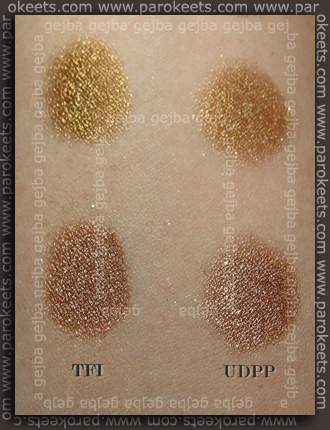 Hazelnut and Esspreso are my eyeshadows to go to when I'm wearing something red … and I can not miss with brown colors.
What are you experiences with TFI?