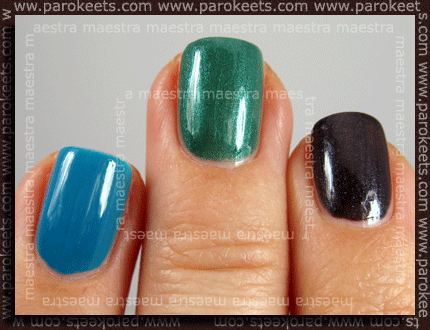 Gejba me je v svojem prispevku Stargazer Opal Nail Polish št. 246 spomnila na svoj nekoč zelo priljubljen odtenek Luna znamke Collistar. Spomnim se, da je bil to moj najljubši odtenek. Prav tako se spomnim, kako barvno nezanimiva in majhna je bila takrat moja zbirka lakov za nohte. Čeprav tega odtenka ne nanesem ravno pogosto, mi je še zmeraj zelo všeč, saj se barve presevajo od na prvi pogled skoraj bele preko zeleno in vse do vijolične. Spominja me na perlo…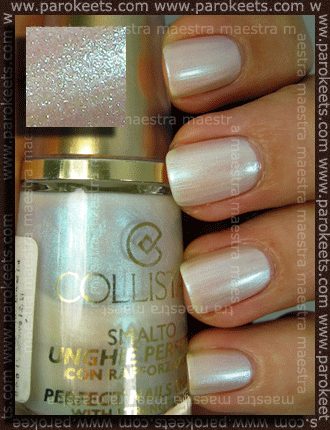 Odtenek mi je všeč tudi zato, ker je po prvem nanosu skoraj popolnoma prosojen, po tretjem nanosu je skoraj popolnoma prekriven. Na zgornji fotografiji so trije nanosi.
V objektiv sem poskušala ujeti prelivanje barv…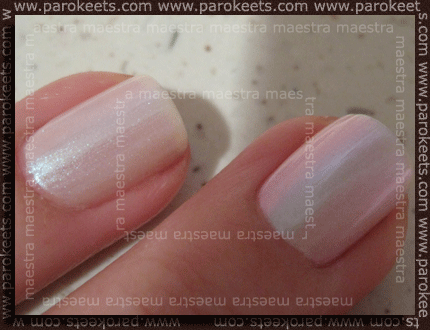 Na zgornji fotografiji je dokaj dobro prikazana razlika na soncu in v senci.
Spomnim se, kako se je Gejba pritoževala, da nikakor ne more ujeti vseh barv, ki jih en sam presevajoč lak premore. Lahko samo potrdim. Resnično ni enostavno, kajti nekatere barve so vidne le pod nemogočimi koti ali pod nemogočo lučjo za fotografiranje. Na zgornjih fotografijah mi nikakor ni uspelo lepo ujeti zelenega "flash-a", ki ga Luna sicer dokaj nesramežljivo razkazuje. Pomagala sem si s tehniko "layering" oziroma s slojenjem različnih odtenkov ali kot je to isto stvar poimenovala Mamy v svojem prispevku: Kombiniranje lakov.
"Layering" je izredno enostavna in efektivna tehnika. Zagotovo doma vsaka premore kakšen prosojen odtenek, ki ji je sicer všeč, a je morda preveč prosojen, ima pa zelo lep "flash" v steklenički. Velikokrat je odgovor v slojenju različnih odtenkov.
Ker me je zanimalo, kako se bo Luna obnašal na različnih barvah, sem za osnovo izbrala različne odtenke: črno (z zelo drobnim šimrom), zeleno (s šimrom) in krem modro.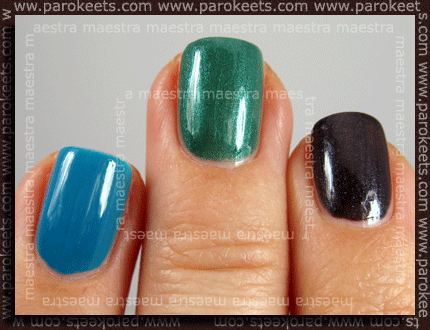 Nato sem čez vsakega nanesla eno plast odtenka Luna. Kaj je nastalo?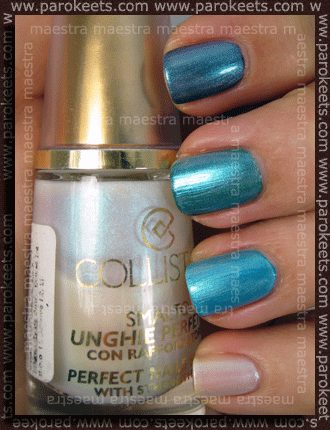 POZOR, prihaja velik prst!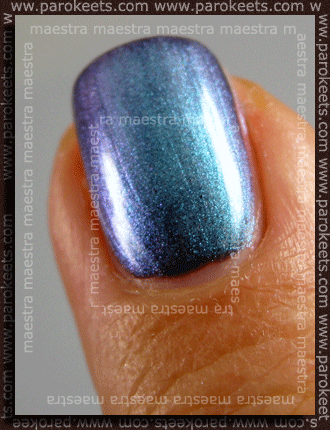 Na zgornji fotografiji (Luna čez črn odtenek) se kar lepo vidi prelivanje barv. Na robovih je lak precej vijoličen, na sredini modro-zelen. Tako sem dobila popolnoma nov odtenek.
Zelo enostavno in efektivno. Treba je samo pustiti domišljiji prosto pot in en malček eksperimentirati. Kar pogumno!
Vredno je prebrati še prispevek od Gejbe: Orly Prisma Gloss Gold "sendviča", ki ga je napisala pred časom, v katerem v bistvu prav tako piše o "layering" tehniki, a s čisto drugačnim končnim efektom.
Zadnje čase me muči kronično pomanjkanje časa. Fotografije za ta prispevek sem urejela dva dni. Vsakič, ko je bila minutka časa, sem naredila nekaj. Fotografije so me čakale že od februarja. Še dobro, da je Gejba napisala svoj prispevek, sicer bi na te fotografije morda celo pozabila. Torej hvala, Gejba!