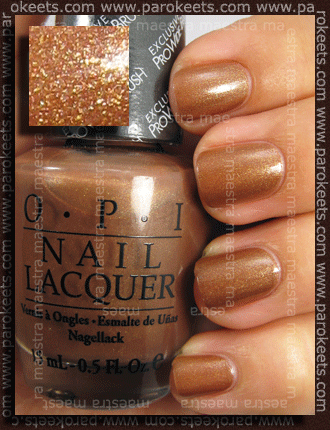 Velika novost v ljubljanski Nami je OPI stojalo! Te novice se bo marsikatera zelo razveselila! Seveda sem morala takoj preveriti, kakšno je stojalo in koliko odtenkov premore. Uspela sem narediti nekaj revnih fotografij samo za vas…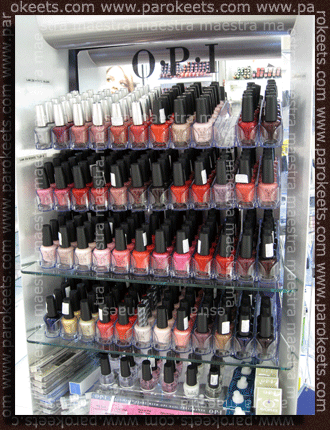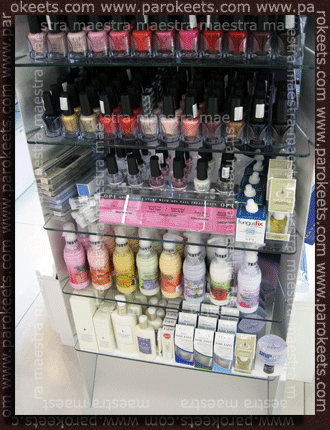 V zgornjem delu stojala so štiri poličke po 12 barvnih odtenkov. Torej 48 odtenkov. Od tega jih je 6 Designer Series odtenkov. "Navadni" odtenki stanejo 14,38€. Designer Series odtenki pa 19,28€.
Nato sledije poličke s podlaki, nadlaki, pilicami, losjoni, kremami za roke ipd.
Lahko rečem, da je stojalo kar dobro založeno, le odtenki na stojalu so bolj klasični. Skoraj nič posebnega ali celo odštekanega. Vendar tega niti nisem pričakovala. Vsekakor veliko veselje, da smo OPI stojalo sploh dobili. O ceni bi lahko precej debatirali, ker je vsekakor previsoka. Saj ne rečem, tudi sama si bom verjetno kakšnega OPIja privoščila pri nas, a to bo bolj izjema kot pravilo. Samo za posladkat se in če bodo sploh imeli kaj zanimivega zame. Danes sem s stojala odnesla zelo drag DS Extravagance odtenek, a tega sem si že (pre)dolgo želela. Tako sem se danes posladkala.
Vprašala sem prodajalko, ali imajo morda kje seznam vseh odtenkov, ki jih prodajajo, a seveda tega nimajo. Poskušala sem si zapomniti čim več odtenkov, a vseh si seveda nisem uspela. Naštela jih bom nekaj. Ne me čisto držati za besedo, ker sem si morda katerega narobe zapomnila in ga morda dejansko nimajo. No, pa da vidimo, koliko sem si zapomnila:
Pink-ing of You
Japanese Rose Garden
Kreme de la Kremlin
Royal Flush Blush
ElePhantistic Pink
20 Candles On My Cake
The Thirll of Brazil
Big Apple Red
Catherine the Grape
Keys to my Karma
An Affair in Red Square
Royal Rajah Ruby
Black Cherry Chutney
Senorita Rose-alita
DS Extravagance
Parlez-vous OPI?
Boris & Natasha
Charmed by a Snake
Suzy Sais Da!
Curry Up Don't Be Late!
Mimosas for Mr. & Mrs.
MAkes Men Blush
Get Me to the Taj on Time
I Only Drink Champagne
Tickle My France-y
Yoga-ta Get this Blue!
Russian Navy
MoonSooner or Later
DS Coronation
To je zaenkrat seznam, ki sem si ga zapomnila. Bom pa ga v prihodnje dopolnjevala oziroma spreminjala. Vsekakor je dobrodošel vsak komentar. S skupnimi močmi nam bo zagotovo uspelo seznam izpopolniti.
Za konec še odtenek Charmed by a Snake. Svetel bronz odtenek s svetlim, hladnim šimrom. Lep nežen odtenek, ki ni prerumen in hkrati ne prehladen. Zelo nosljiva barva.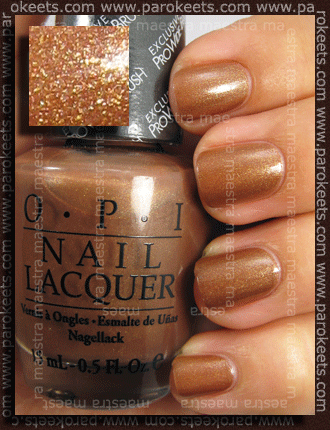 Na fotografiji sta dva nanosa.
Ste veseli, da smo končno dobili spodobno OPI stojalo – sicer le v Ljubljani? Kakšna se vam zdi cena? Boste si kakšnega OPIja celo privoščili?