Instead of one post for each brush, I made comparison between Coastal Scents – Sable Contour and Kent – Definition/socket brush.
All of the pictures contain 1 EUR coin for reference.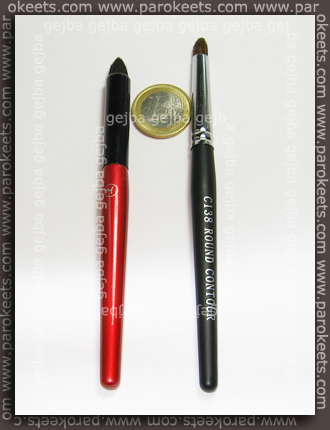 Lets start with length. Sable Conture is 14 cm long and it's approximately 1 cm longer than Kent brush. The length of hair is very similar – around 1 cm. Kent brush looks more stylish to me with it's red and black combination. The black part is made from plastic – I still can't decide weather I like that or not. Well – I had no problems with it so far, so it must be OK.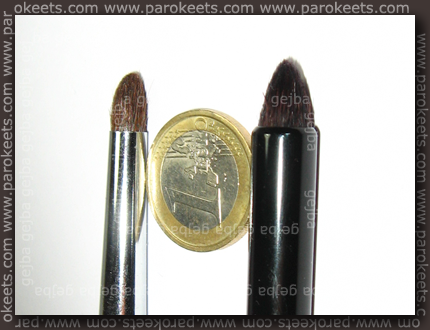 Sabel Conture is made from sabel hair, whether Kent gives no information about hair origin except it's natural. Definition brush has more compact hair, and is less flexible than CS hair. Kent brush has wider hair and is more pointy than CSs.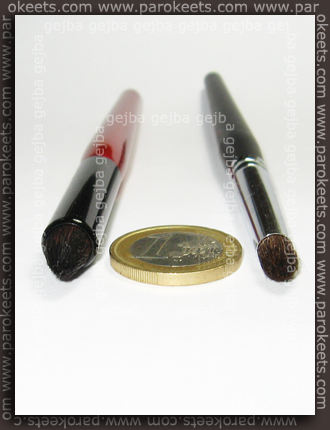 Both of the brushes are to scratchy for my taste – Sable Conture even more than Definition brush (I have very sensitive lids, so they could be just fine for you). For a while now, I'm noticing that I should altogether switch to synthetic hair brushes, since they're usually much softer.
The shape of the brushes allows us to use both of them as liner brushes – Kent brush makes more precises line weather Sable Conture brush is more appropriate for applying eyeshadows in inner corner of the lid than line, but you could pull it of.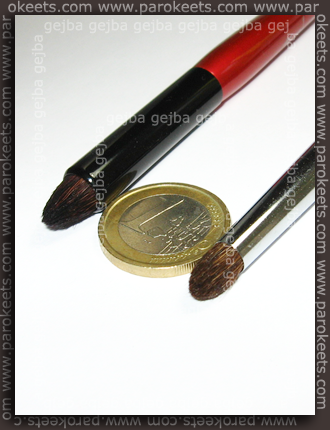 Of course I use both brushes as crease brushes as well. I personally use them when I want to shade the deepest part of the crease – to make it even deeper. For "regular" crease I use Coastal Scents Synthetic Deluxe Crease Brush.
Neither is loosing hair, leaking dye or smelling weird after washing.
Prise wise CS Sable Contour is more affordable – you'll pay 1,3 EUR (1,79 USD) + shipping, while Kent Definition/socket brush costs 10 EUR (8,5 GBP) + shipping.
For the end – group photo of my crease brushes.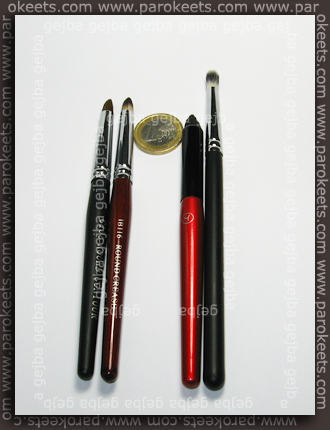 Next brush review will be about Synthetic Buffer Brush Large.