Pred kratkim je znamka Essence poleg čudovitega Stampy Set-a, o katerem bom pisala v prihodnje, izdala tudi lake za nohte v obliki nalepk. Ne gre za nič revolucionarnega, saj so podobne nalepke imeli že pri Avon-u, Sephora ima svoje (ali jih je imela), pred kratkim pa sem v avstrijski Bipi kupila nalepke ameriške znamke Incoco. Torej, dejansko ne gre za nobeno novost. Sicer še nikjer nisem prebrala, da bi se te nalepke dejansko "prijele" in da bi bile punce nad njihovo uporabo navdušene. Tako sem morala zadevo preizkusiti tudi sama.
V navodilih piše:
Izberi primerno obliko za noht. Nežno odstrani nalepko, začni pri srebrnem traku. Okroglo stran nalepke obrni proti ob nohtni kožici. Nežno pritisni in zgladi površino. Odvečno nalepko prepogni pod noht in odpili.

Odstranjevanje: Nalepko se odlepi, odstrani pa se lahko tudi z acetonom.

Točno tako sem tudi naredila.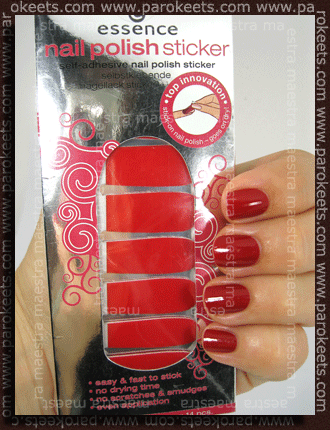 Rezultat sploh ni slab.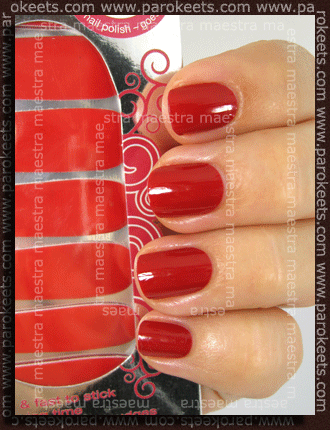 Zdaj pa še nekaj mojih opažanj. Za res lep končni izgled, se je treba kar malo potruditi, biti natančen in ne nazadnje, si vzeti čas. Za nanos na vseh 10 nohtov sem rabila okrog 25 minut. Ja, v tem času bi si nohte že nalakirala. To je res, vendar pri nalepkah ni treba čakati, da se lak posuši. To je zagotovo velika prednost. Torej po nanosu nalepk, sem bila "ready to go".
Nalepke nimajo neprijetnega vonja, ki je značilen za lake za nohte.
V embalaži je 14 nalepk, ki so različnih velikosti, da lahko izberete ustrezno obliko za vaše nohte. Z obliko nalepk nisem imela nobenih težav, saj so se zelo lepo prilegale moji krivini.
Pri nanosu je treba biti natančen. Nalepko je treba lepo nastaviti na noht in jo lepo zgladiti po nohtu, da se ne naredijo mehurčki. Odvečno nalepko sem brez težav odpilila. Napako sem naredila le pri enem nohtu. Nalepke nisem dobro odpilila, zato se mi je malo zatrgala.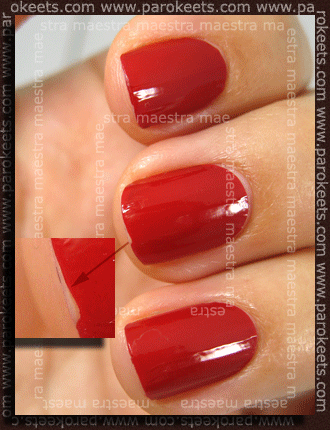 Sicer pa sem bila dejansko presenečena nad končnim rezultatom. Manikura je izgledala zelo lepo. Žal ni kaj posebno obstojna.
Cena je okrog 2,5€.
Ali nalepke priporočam?
Ja in ne.
Če resnično nimate časa za sušenje laka za nohte, imate pa čas za nanos le-tega in si resnično želite pisanih nohtov. Potem so nalepke primerne za vas.
Če še niste popolnoma vešči nanašanju barvnih lakov in si resnično želite lepo urejenih nohtov, a ne želite plačati veliko denarja za profesionalno manikuro. Potem so nalepke primerne za vas.
Če greste na potovanje in ne želite nositi zraven vseh podlakov, nadlakov in še barvnih lakov. Vseeno pa bi radi vsaj kakšen dan uživali v lepih, barvnih nohtih. Potem so nalepke primerne tudi za vas, saj ne zavzamejo veliko prostora, nanaša pa se jih kar na noht brez podlaka. Prav tako naj ne bi potrebovali odstranjevalca za nohte.
Za vsakodnevno uporabo sigurno niso, ker so predrage. Vsakodnevni uporabi niti niso namenjene. Verjetno so dejansko mišljene za izhod v sili. In za izhod v sili jih vsekakor priporočam.
Plusi:

ni neprijetnega vonja
brez sušenja
zavzame malo prostora
dokaj enostaven nanos
podlak, nadlak in odstranjevalec niso potrebni
Minusi:

cena
slaba obstojnost
omejenost na v naprej določene oblike nalepk, ki se verjetno ne prilegajo vsem oblikam nohtov
slabša izbira barv
V prihodnje imam namen nalepke primerjati še s tistimi iz Sephore in Bipe. Poročilo sledi…
Kaj menite? So vam zanimive ali ne?