Not so long ago, I bought Workzone toolbox with 33 drawers in Hofer store and turned it into make-up organizer.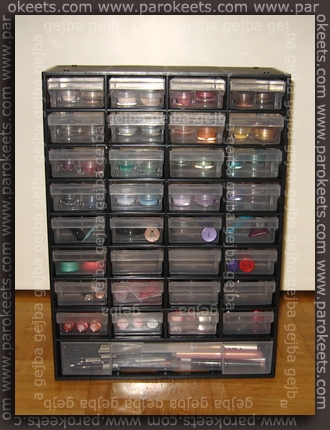 I edited photos into YouTube video.
32 of smaller drawers is ideal for keeping eyeshadows, lipsticks, blushes, primers and other necessary items. At the bottom of the toolbox you'll find one big drawer where you can store liners, brushes, mascaras …
Smaller drawer is big enough for six 5g jars. You also get barriers, so you can dived drawers into three partitions.
Toolbox can be kept on desk or mount up on a wall.
Dimensions are: 41,5 cm (height) x 30 cm (width) x 13 cm (depth).
I paid 7.99 EUR for it.
It's not work of art, but it does come in handy.
How do you like it?