Today I have two recent NOTDs to show you.
First one is a dark one. In the past few days I was thinking about vampy shades and how I don't like dark shades for the summer. But than I wondered… Vampy shades usually hide some great shimmer and in poor light 90% of the time they look almost black, which is just sad. The great shimmer and the potential is seen only in good lighting. So, I had to take advantage of the sun here and grabbed the gorgeous OPI – Ink.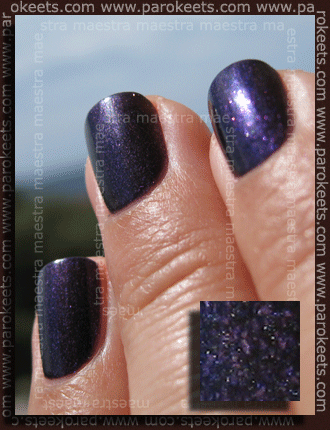 This shade truly is amazing! It is almost black base and than tons of irregular shaped blue to purple shimmer. The shimmer is what makes this shade so lovely. Sadly, I couldn't capture the shimmer correctly. It's much livelier in real life!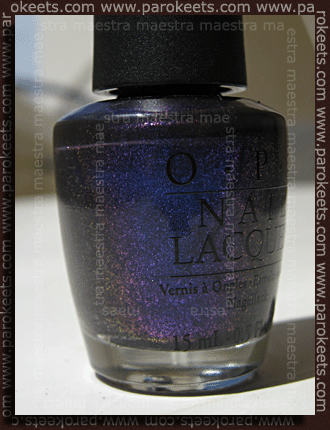 I had minor problems with the application. The consistency of this polish is a bit watery and I had a bit more clean up to do as usually. It was not a huge problem, but still worth mentioning. There are two coats in the picture above.
The next manicure is a combination of OPI – Purple-opolis and DS Extravagance.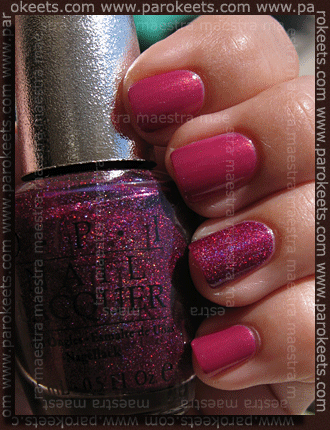 Purple-opolis is lovely fuchsia shade with golden shimmer, which make is warm in the sun, while indoors it looks more on the cooler side. There are two coats in the picture.
DS Extravagance is just a stunning shade! It's one of the most beautiful shades ever made. At least for me. There are two coats in the picture.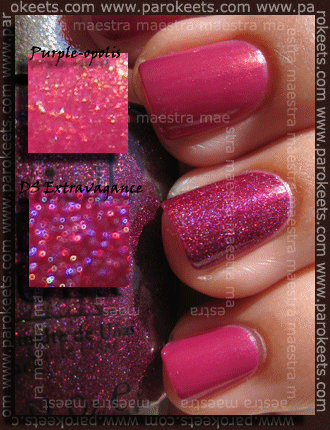 The picture above is blured on purpose, to show you the pretty holo shimmer.
That's all for today…