(Too) Long ago one of our faithful readers Matejcka requested swatches of Essie's Showstopper and some other colors (Matejcka, I didn't forget. ) I just couldn't make myself to wear this shade until today, when I said to myself: "Just do it and get it over with!" I mean, I love the color and everything, but I'm just not in the redish mood or era or something. :D So I painted my nails with Showstopper, which is a berry red with lots of not-so-tiny gold shimmer. It's has almost foil finish, but not exactly. It's definitely very shimmer.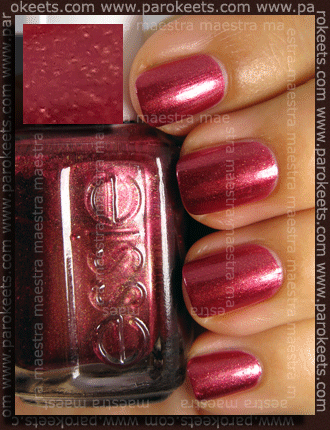 I had no application issues. It's a bit on the thin side, but nothing to worry about. This is two coats.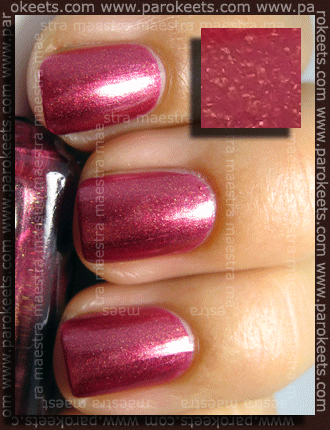 Than I had an idea: "What if I add some matte top coat to it?" So I grabbed my Matte About You the mighty matte top coat. (Yes, I've been playing The Tales Of Monkey Island too much. Guybrush Threepwood, the mighty pirate… :D ) So, I added one coat of MAY and I was stunned…
It looks amazing. Showstopper has obviously just the right amount of shimmer, which is just the right size. And the golden shimmer makes it glow a bit. I love it! It reminds me of Zoya Posh, but I don't have that one, so I can't compare them.
Matejcka, thank you for making me do this manicure.
When I look at the pictures, I have one comment for you left. Showstopper looks more red under certain lighting conditions and in more berry in others. So, take that under consideration.
Among other etailers, you can buy Essie nail polishes HERE. They ship internationally.