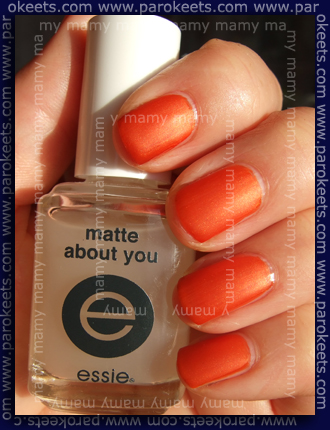 Jutra so postala hladna in zvečer že razmišljam, da bi zakurila v kaminu.
A nohte krasijo topli, skoraj vroči odtenki meni tako ljubih lakov Ciate Paint Pots. Najbolj udaren je Femme Fatale, živo oranžne do opečne barve s finimi zlatimi bleščicami.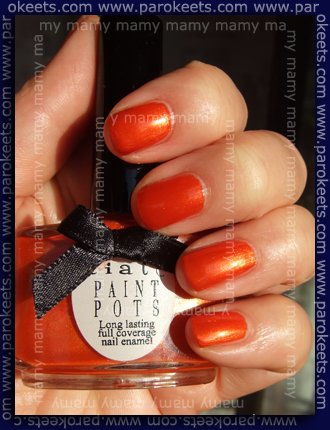 Ta je prvi iz pošiljke pristal na nohtih. Zdelo se mi je, da ga je treba malo "umiriti". S čim le, če ne z Essie Matte About You.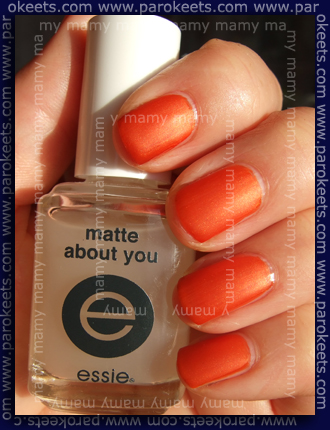 Sedaj mi je bil lak celo bolj všeč. Zmatiran deluje bolj umirjeno in zelo prefinjeno.
Naslednji lak je prvemu precej podoben. Gre za krem lak z imenom Speed Dial, nežne oranžne barve. Na splošno sem to poletje precej oprezala za oranžnimi laki. Ta je vsekakor najlepši med vsemi.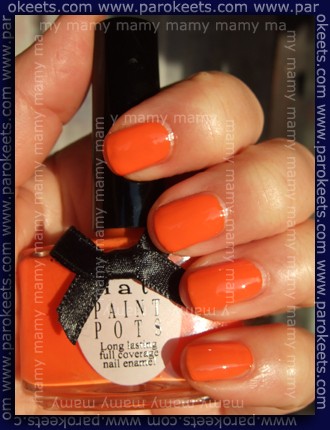 Mojito. Barva, ki nam je všeč ali ne. Meni je, saj se tudi prevažam naokoli v zelenem avtu.   Tudi ta je krem, potrebna sta dva nanosa.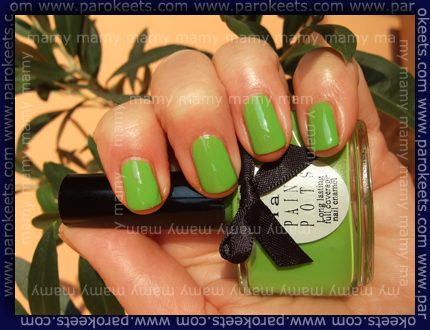 Pri tem odtenku sem preizkusila Glitterati. Lak, ki me je najprej razočaral, sedaj pa mi je celo zelo všeč. V družbi z Mojito-m izgledata tako: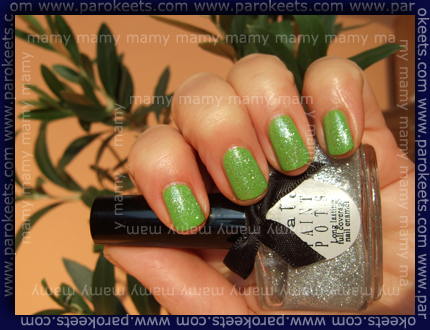 Glitterati mi je všeč tudi zato, ker so srebrne bleščice res majhne in niso problematične za odstranjevanje.
Še enemu laku lahko rečem, da je zelen: Golden Globe,  gre za olivno zeleno barvo. V ozadju je bonsai oljčno drevo, ki ga že leta vzgajam na terasi. To je bil prvi odtenek, ki me je prevzel, ko sem videla Maestrino zbirkov "Ciatkov". Maestra je o njem že pisala TUKAJ.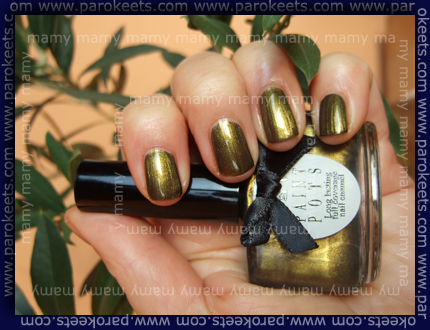 O teh lakih lahko pišem samo najboljše. Nanašajo se lepo, zelo so pigmentirani. Zadostuje že en nanos, odvisno od odtenka. Jaz sem nanašala dva sloja, zaradi lepšega finiša in popravljanja napak.
In kaj je krivo temu, da se bolj poredko oglašam?
Tukaj je odgovor.