Pred kratkim sem iz Nemčije prinesla nekaj lakov znamke u.m.a. Gre za cenovno dokaj ugodno nemško znamko kozmetike. Stojalo sem našla v samopostrežni trgovini. Med drugim je bil na stojalu tudi komplet za konadiranje z original Konad ploščico. Komplet me ni pritegnil. Zanimali so me predvsem laki za nohte. Odtenki na stojalu niso bili preveč impresivni in večina lakov je izgledalo precej prosojnih in tekočih. Kljub temu sem jih nekaj kupila.
Danes vam bom predstavila enega od minijev, ki sem jih kupila. Ime mu je Cherry Blossom. Gre za prosojen duochrome odtenek, ki barvo spreminja od škrlatne, preko rjave, do rumeno-zelene.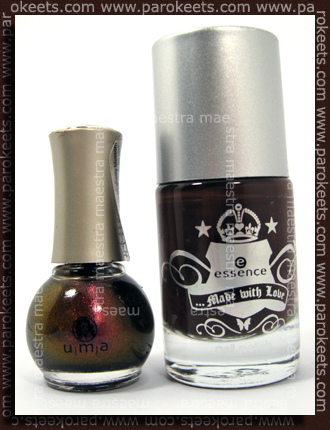 Steklenička je res minimalna. Nikjer ne piše količine, a jaz bi rekla, da je manj kot 5ml.
Na zgornji fotografiji laku Cherry Blossom družbo dela lak Essence – In Love iz omejene izdaje Made With Love. Kot sem že napisala, je Cherry Blossom prosojen lak, zato sem za osnovo uporabila lak In Love.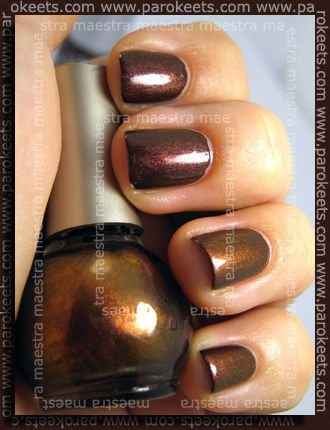 Na zgornji fotografiji je duochrome efekt kar lepo opazen. Več fotografij si lahko pogledate v kratkem filmčku, ki sem ga danes pripravila za vas.
Očitno sem izbrala "najboljši" dan za nalaganje svojega prvega videa na Youtube. Youtube je bil danes neprestano gor in dol… Vedno znova se je kazalo obvestilo: "YouTube is down for maintenance and will be back shortly." Ob živce me je že spravljalo!!! Pa ravno danes… Katastrofa! Ah, saj ni pomembno…
Cene Cherry Blossom laka se žal ne spomnim. Vem, da je bila cena kar ugodna.
To je moja današnja manikura. Meni je zelo všeč. Navdušena sem tudi, ker mi je dokaj lepo uspelo ujeti duochrome efekt v objektiv. Kaj pa vi menite?