If you like mine (no. 18) or Meastra's (no. 21) winter manicure you can vote for us at Winter Nail Art Contest. Every vote is appreciated.
Thriszha asked me if I could do konadicure with middle all over image on Chez-Delaney plate H 22.
I used Essence Meet You In Budapest for base since that is one of my favorite polishes right now. :D Our Meastra gave me this beautiful polish for my birthday. It's called Ciate Golden Globe. At the same time I got p2 So Cool! polish from Germany so I had to test both of them.
I used Golden Globe with middle all over image from H 22 plate on index and middle finger and So Cool! on ring and baby finger.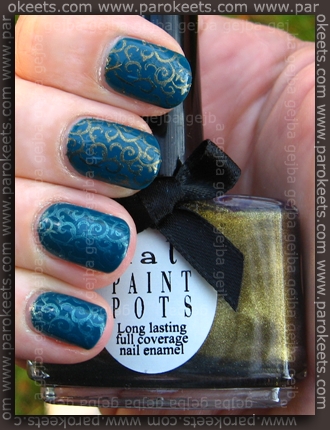 Which color do you think works better with Meet You In Budapest polish – Golden Globe or So Cool!?