OPOZORILO!
Če ste alergični na kič, potem ne berite naprej!
Tisti, ki ljubite kič in po vrhu še rdeče, bo tale prispevek pravi raj za vas. Za vse ostale, ki ste samo radovedni, pa upam, da ne razvijete alergije. :D
Šalo na stran … V slikah vas bom popeljala skozi različne faze nastajanja izredno "over the top" manikure, ki pa morda celo pride v poštev na božični večer. Poimenovala sem jo "Christmas Overdose". Le zakaj? :D
Za začetek dve plasti Avon – Rubby Slippers, ki me ni kaj preveč navdušil. Zame je barva presvetla. Gre za "jelly" osnovo, v kateri s kopljejo srebrne bleščice, ki pa jih ni ogromno.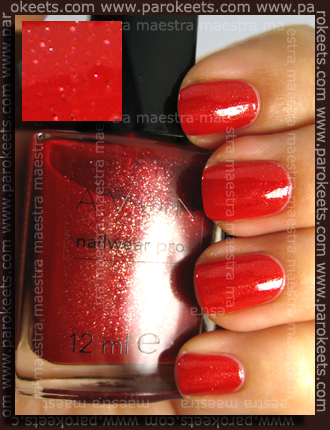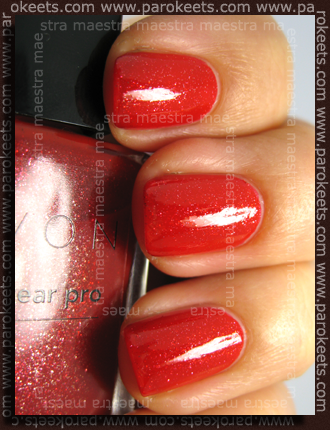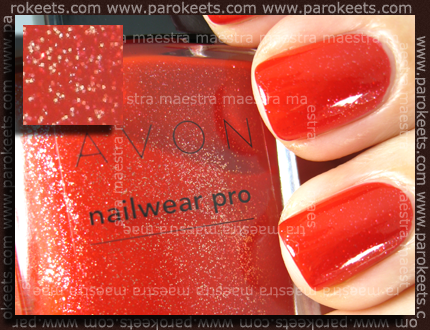 Čez Rubby Slippers sem nanesla eno plast Avon – Golden Dream, ki je zelo prosojen odtenek z drobnimi zlatimi bleščicami raznoraznih oblik. Pravzaprav izgledajo kot drobne krpice. Na prstanec sem nanesla eno plast močno bleščičastega odtenka CND – VIP Status.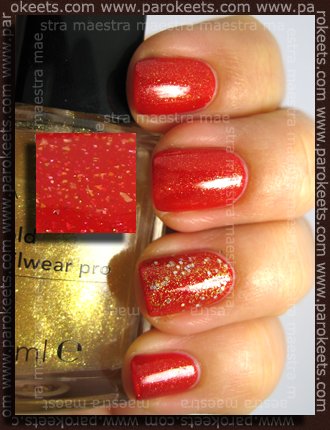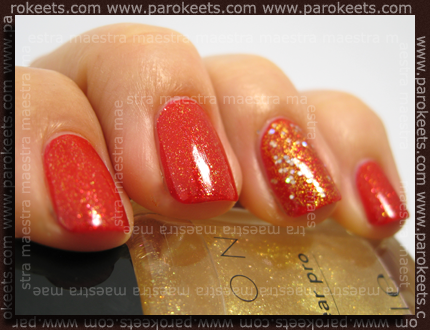 Za konec še Konad z lakom Avon – Mirror Shine – Gold Foil in ploščicama m14 ter m61. Na sredincu pa rdeč kamenček iz seta kamenčkov znamke S-he.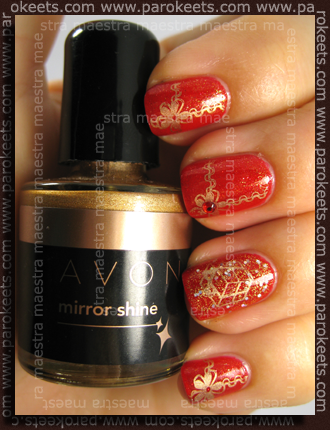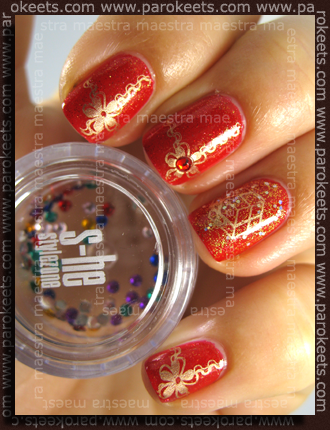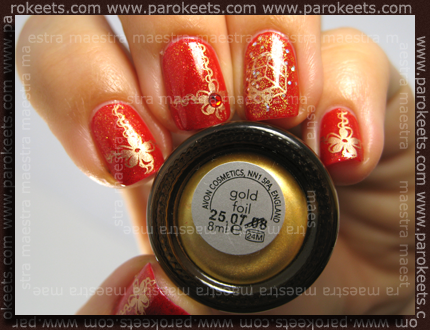 Zdaj razumete, zakaj sem manikuri nadela takšno ime? In kako se vam zdi? Popolnoma "over the top" ali sprejemljivo?