Blue Curacao is a polish that probably got its name after  a liqueur. I think it's a good name. It's way more original than to name this creme (almost jelly) blue "Aqua Blue" or "Feeling Blue" or "It's Blue" or "97503"… Blue Curacao is definitely a good name.
The formula on Blue Curacao is a bit sheer, but not as sheer as I feared it would be. This is two coats without a top coat. It dries to a satin finish. I tried it under the black light, but it turned out it wasn't a neon.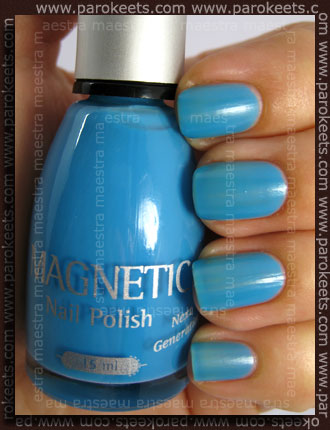 I added a third coat and one coat of top coat. Perfect!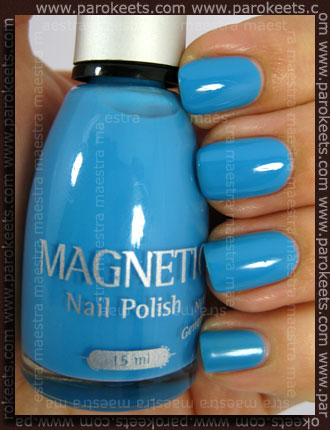 I think that this kind of blue is just perfect for Summer!
Although it took three coats to make this beauty totally opaque, I didn't have any application issues. It dried pretty fast too. No complaints at all.
That's what I wrote in my previous post about  the Magnetic polishes:
"The brush could be better. It's a bit mopy, but because the formula on these is so great, I didn't have any problems with the brush. The only issue (that isn't a real issue at all) I have with Magnetic polishes is the bottle. I just don't like the shape and the handle and the whole look. But that sure doesn't effect the quality, which is really good. Unfortunately, I can't write about the wear time, because I didn't have the chance to try that out yet. Everything else is great. At least the shades I've tried are great. If you have the chance to try them out … don't hesitate."
My opinion stays the same and holds true for this nail polish as well.
Have you already tried the Magntic polishes? What do you think of them? What do you think of Blue Curacao?