More of them I buy, more I like them. I had to search hard to get these shades. It seems that girls in Croatia love this polishes as much as we do. I'll introduce you to the hottest selling shades after I get them … otherwise I can stop hoping that I'll manage to find them. :D
First quartet:
010 Don't Feed The Birds – yellow with gold shimmer, . It's quite sheer, so I needed four thin coats.
030 Meet Me At Coral Island – coral shade, creme finish, two layers
040 Princes For a Day – pink polish with creme finish, two layers
060 Bloody Marry To Go – perfect res, creme finish, two layers
The winner is yellow 010 Don't Feed The Birds.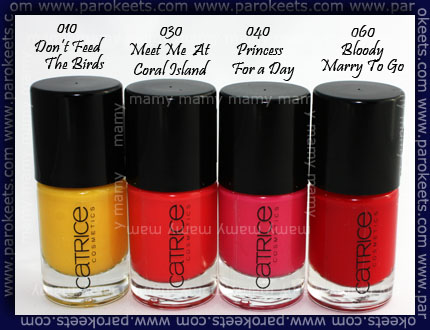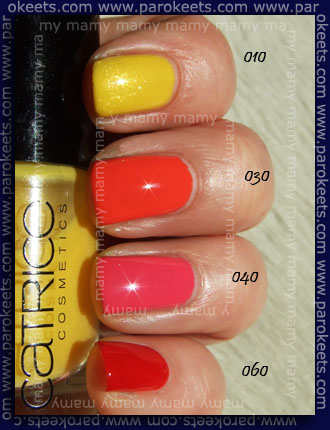 Second quartet:
070 Caught On The Red Carpet – dark res creme shade, two thin layers (third wouldn't hurt either )
080 Let's Talk About Barrie! – dark red polish with berry undertone, creme finish, two layers
150 Big Spender Wanted! – cyclamen shade, shimmer, frost finish
170 Scream Peach – gorgeous pastel peach, creme, two layers. I'll write more about this one since swatch doesn't show all the beauty of this shade.
The winner is 170 Scream Peach.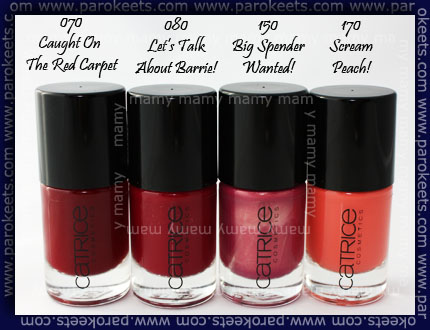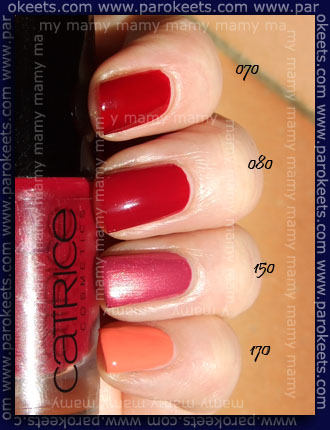 Third quartet:
180 Hot Or Not? – is somewhere between pink and cyclamen color, creme, two layers
200 From Dusk To Dawn – hot color this spring, gray with touch of brown, creme, very opaque, two layers
210 Just Married – soft pastel pink with shimmer and interesting name name , very sheer, four thin layers
260 Blue's Brother – blue shade, with silver and blue shimmer for depth, three layers, frost finish
The winners are 210 Just Married and 200 From Dusk To Down.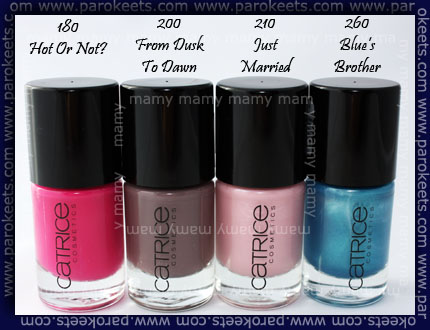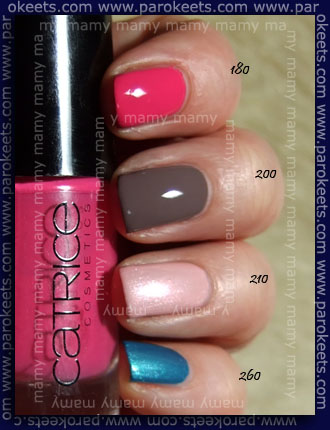 Fourth quartet:
270 It Blue My Mind – fantastic blue in every way: coverage, gloss … Shimmer, two layers (one would be enough)
280 London's Weather Forecast – if London really has this kind of a weather … then I love it. Shimmer, two layers.
130 Lucky in Lilac – (now belongs to my "wanted" list), soothing violet color, creme, very pigmented
020 MAN, Go Tango – (I already wrote about this shade), beautiful orange, lively color, opaque, shimmer
They are all winners.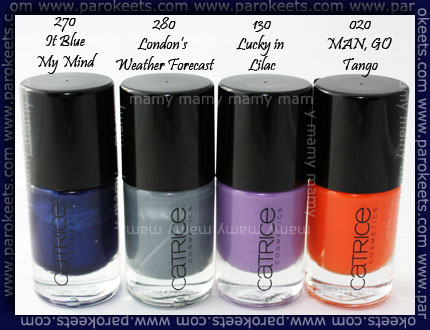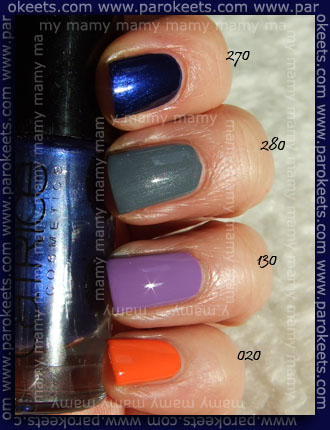 What else could I possibly add? They're very affordable. Content 10ml / 0,34fl.oz, price 2,50€, available in Croatia, Austria, Germany …
You'll be the first to know when I get my hands on the most sought after shades. Until then, they're still on the "WANTED" list.