Here are the first swatches of our American Apparel polishes.
I'll begin with "a small" (or a standard Parokeets photo) photo of the bottles …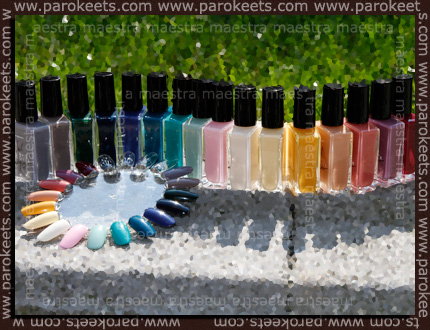 … and end with a huge photo of the swatches on a nail wheel. Try to click on the photo, maybe it'll become even bigger.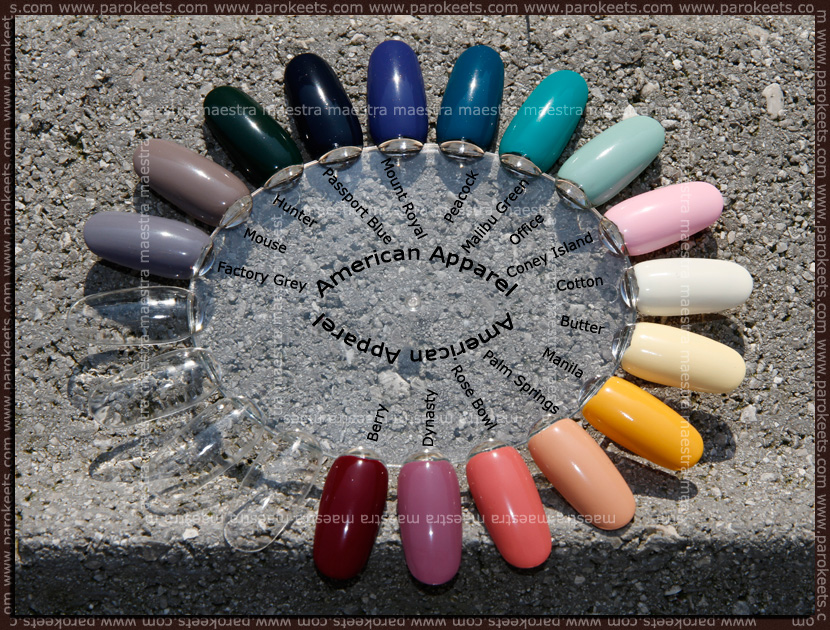 All shades are shown with two coats. The lighter shades (Office, Coney Island, Cotton, Butter) are a bit streaky to apply, while I didn't have any application issues with the darker shades. The formula on almost all (except Dynasty) is a bit on the thick side, but not as thick as let's say the old Ciate Paint Pots. I'd call these real cremes. Not a single jelly (or jelly to creme) here. Pure cremes. In my book almost all shades are keepers. The winner for me is probably the Mount Royal shade. Unique shade (in my stash). So far I've worn the Manila and Palm Springs shades as a full manicure and I must say that both wore really well. After two days of wear I didn't have any major chips, just some tiny ones. I'm quite impressed with American Apparel polishes so far.
Have you already tried the American Apparel polishes? How is your impression of them?