Yay! I can finally present you swathes of the Eclipse TE. I have to say that it was a lot of work, because I wanted to show really good pictures and some ideas. Let me show you what I prepared for you. I have to warn you that there are tons of pictures included in the post. I hope you'll like them.
First the picture I already showed you. All the things I swatched for you.
Let me start with nail polishes. There are five different shades in the collection.
Ready To Be Bitten? is a true surprise for me. It's very nice semi sheer polish with glass flecked shimmer. I love it!
With one coat it's a nice sheer polish …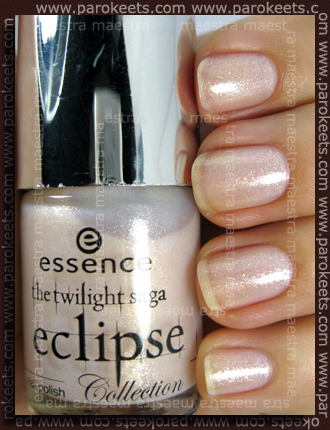 … look at the nice glass flecked shimmer …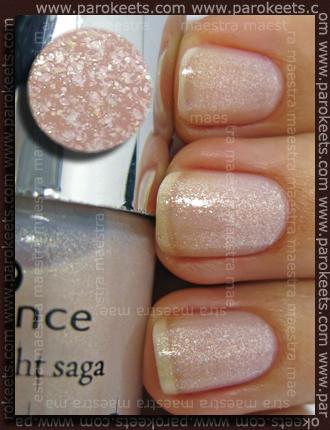 … with three coats it's more opaque but you can still see the VNL. It doesn't bother me. It's so lovely, shy but noticeable, that you just have to love it.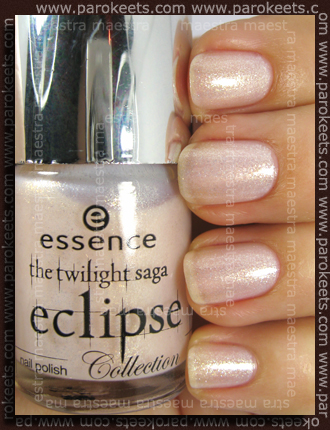 Hide Bella Hide is another one that surprised me. I thought I wouldn't like it at all, but I think it's nice. It's a frosty metallic silver shade. When you apply this shade, have in mind that you apply a frost and metallic shade. But for a metallic it's really easy to apply. There are two coats shown in the picture below.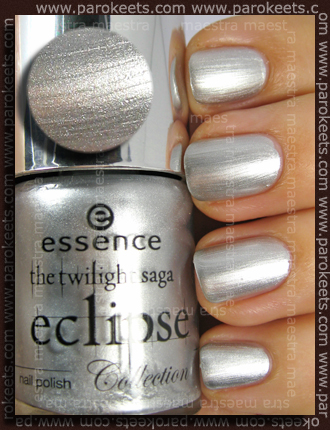 Don't Bite Me – Kiss Me is a berry shade. You say, another berry shade? Yes, but this time it isn't a dupe of anything I have so far from Essence. This time it has a purple shimmer, which is hardly noticeable. Two coats shown in the picture below.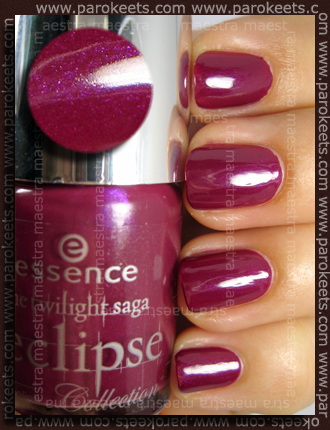 Thirsty? is a jelly dark red shade. Very pretty! Two coats shown in the picture below.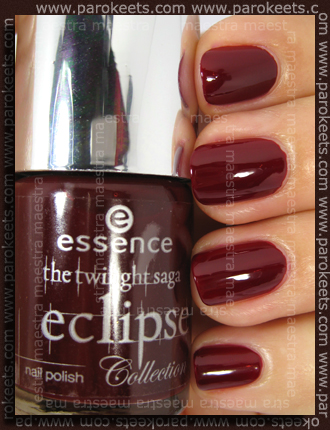 Last shade from the Eclipse collection is a shade everybody was excited to see. It's a jelly black base with silver and purple glitter. Lovely but very dark, almost black. The glitter is of course more visible in the bottle, but it's also noticeable on the nails. Let me present you Undead?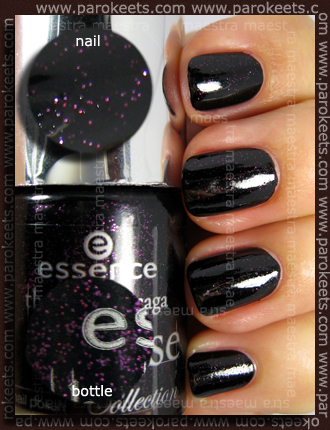 These were the polishes. Nice shades and no application issues.
Next are four lip glosses.
All are nice. My favourite is the red one, which is the most pigmented of them all. The applicator is bigger and very nice. I forgot to take pictures of the applicator. Sorry. But I'll make it up to you with the first picture of my lips here on Parokeets. My lips are nothing to show off with, but I really wanted to show you this beautiful red lip gloss called Lunch At Cullen's.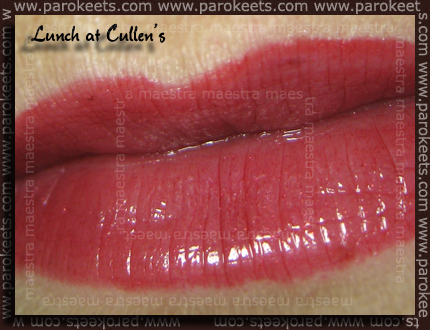 Ok, these were the lip glosses. Next are the swatches of the baked duo eyeshadows, which you can apply wet or dry. I swatched them dry and wet and over a base for you.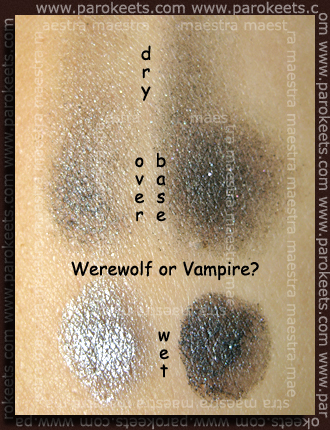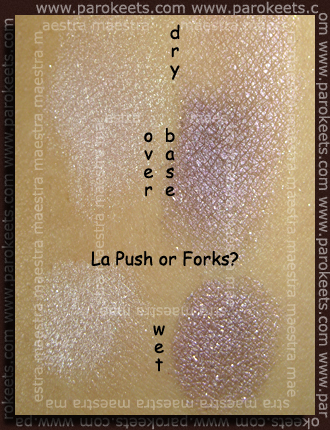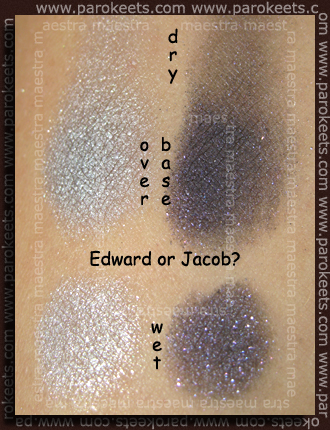 The eyeshadows are the biggest disappointment in the collection if you ask me. These are hard as a stone. I wouldn't recommend using these without a base. These are OK over a base and best when applied wet. They also have some bigger silver particles, which I don't like. All in all, I'd say that these aren't worth buying unless you are going to use them wet.
Although I'm not fond of these eyeshadows I wanted to see if I can make a decent make up with them. I applied all of them over a base and the liner is applied wet.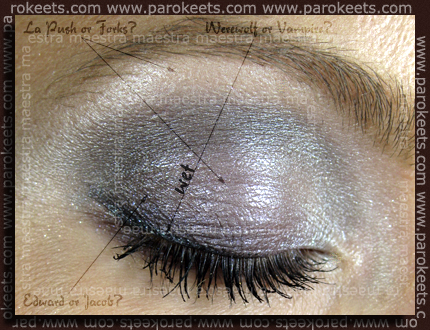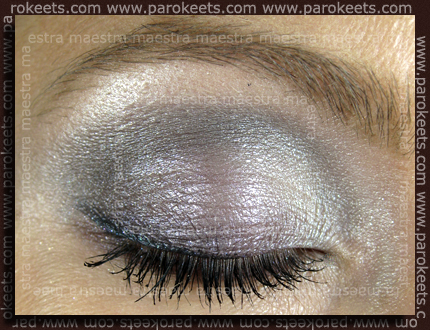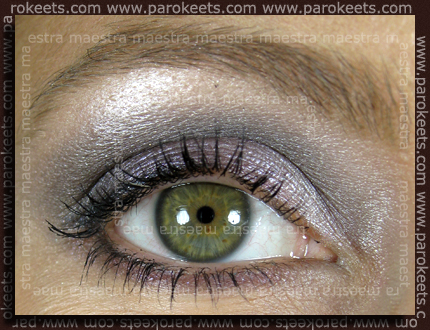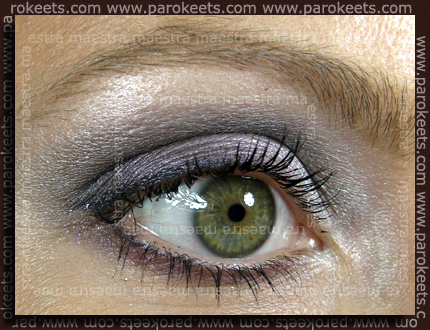 OK, the make up isn't bad, is it? The eyeshadows aren't useless I guess, but are nothing to rave about.
I think the Eclipse collection is good. It has some really nice products. My top picks are: Lunch At Cullen's lip gloss, Ready To Be Bitten? nail polish and Undead? nail polish.
Please let me know what are your thoughts about the collection?
I hope you liked my presentation. I have to say I'm exhausted.
p.s.1: Click on the big pictures to make it even bigger.
p.s.2: We hit 300 GFC followers! Thank you! We will soon start our huge giveaway. Be prepared.