A while ago decision was made that we're going to have huge giveaway after we reach 300 Google Friends Followers.
And since 300th follower joined as at the very beginning of the summer, we named this giveaway Summer is here!
We don't have enough words to tell you just how much we love you, so we hope this picture will tell you more than 1000 words ever could. We appreciate you so much, that we'll be giving one of you all the items you see on the bellow photo.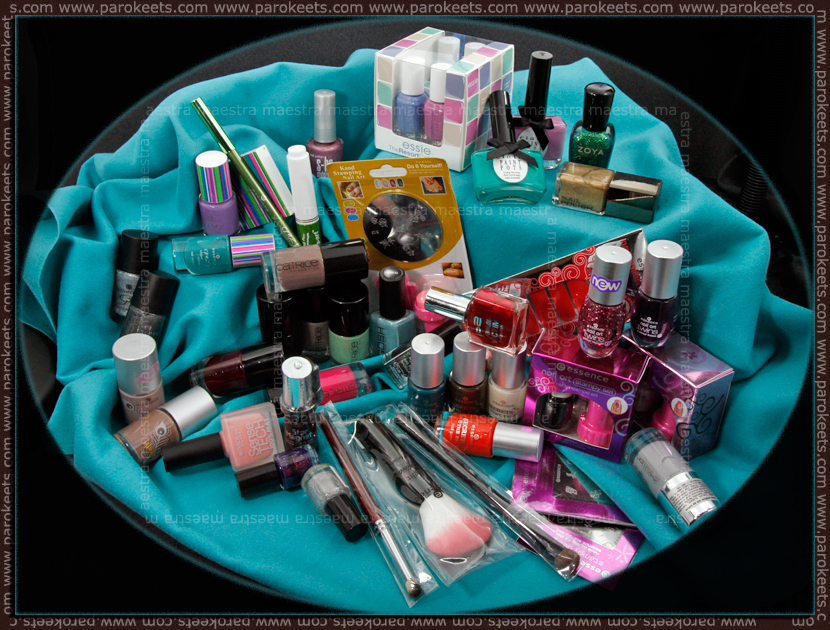 If we list all the products.
1. Essence:
Crazy About Colour: Crazy Me and Lilac Forever polishes + Dare It! eyeshadow + Crazy About Green eyeliner;
Glam Rock: Metal Babe, Gothic Girl;
Go Snow: Frostbite gloss;
Into The Wild: Zulu, Desert Fox;
Moonlight: powder brush;
Nail Art Twins: Thelma, Carrie;
Nail Art Stampy Set from LE with black and white polish  + 2 Essence nail art stamping plates;
Secrets Of The Past TE: Meet You In Budapest, Flowerfields, Glittering Daylight, Matryoshka Doll.
2. Catrice:
3. Essie: The Resort Collection minis.
4. Ciate Paint Pots: Ditch The Heels, Fun Fair.
5. L'Oreal Star Magnet: Magnetic Grey.
6. H&M: Creme de la Creme.
7. Zoya (Sparkle): Ivanka.
8. Deborah – Sense Tech 100% mat: 02.
9. Glam Nails: Larissa, Rainbow.
10. p2: Charismatic.
11. Alessandro: 257.
12. Gosh: Slush Ice.
13. S-he: 427.
14. Knad Stamping Nail Art set: plate + stamper + scraper.
15. Dou'ble-art dotting and stripping pen.
16. Coastal Scents: Round Crease, Black On Black brushes.
All products are brand new and sponsored by Parokeets.
Rules are very simple:
you have to be visible follower on our Google Friend Connect to enter this giveaway;
leave us a comment bellow this post saying you would like to be part of this giveaway with your

email

and

nick

in Google Friend Connect along with information for additional entries (link to the post/forum);
if you publish link to our Summer is here! giveaway in new post on your blog along with the

photo

of the prize, you'll earn additional 2 entries OR you can publish link to our giveaway on one of the cosmetic forums along with the photo of the prize and receive 1 additional  entry;
there will be only

one winner

(if we don't get a response in 48 hours after we send you email, the second picked will be contacted and given opportunity to receive the prize …)
giveaway is International;
computer program will pick the winner.
So if you comment on this post and include you email and GFC nick you're following us with in GFC – you get one entry.
Giveaway is CLOSED.
Let the party begin!
P.S. Don't worry if you don't see your comment right away. Admins will be away until Sunday so the comments will be approved when we get back.