I bought some new stuff from Essence and Alverde today. I don't have much time to blog and since I haven't actually tried any of my new stuff this won't be a real review, but I have some quick swatches for you and some of my first and quick thoughts of the products.
Here's what I bought …
… and here are the swatches …
I love the Essence Smokey Eyes Sets – at least I love the brown one, which I have for quite some time now. The eyeshadow is highly pigmented and soft. The gel eyeliner is nothing to be very excited about but it's OK for a base. The black set seems to be similar quality.
When I tested the new baked eyeshadows by Alverde at the store I was impressed. These are soft and highly pigmented. And there are some nice shades to choose from. I bought two. And the Essence eyeshadow is also soft and pigmented. I was impressed really as I thought that Essence eyeshadows were crap. I bought this one mainly to try to include it in a smokey eyes look.
Last swatch I have for you today is swatch of the Bronzing Mousse from Alverde. It's from their new collection called Feel The Summer.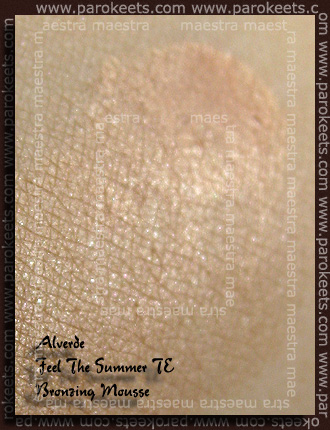 It's a very lousy swatch, sorry for that. I don't have much to say about this product. It's very very soft. Other than that … I have to try it first. It seems nice on the hand, but we'll see how it'll perform on the face. Oh and one thing … It has a coconut smell. Nice.
As you can see in the first picture I also bought two gloss tubes from the Feel The Summer collection, but the swatches came out … let's say "not presentable". A few words instead of pictures. Glosses are very sheer and all are scented with different scents.
I hope these items won't dissapoint me in the future. For now I'm satisfied.
Do you maybe already have any of these items? What's your opinion? Do you like them?
p.s. Click on the pictures to make them bigger. ;)