I have to admit that I've always loved Essie polishes and I have A LOT of them. I love the bottle shape. I love the brush. I know that they have too many sheers and reds and that there's lack of interesting colors. And I know that some Essies can be streaky (I have to tell you that the formula has improved ). Yes, I know all that, but I still love them. And lately Essie has come out with some great collections! Today I'll show you their current collection for summer, which I got for review from Čarodejka (a Slovenian Essie seller).
Demure Vixen is a very lovely light mauve shade with purple shimmer. It's on the sheer side but it's buildable. There are two coats in the picture below.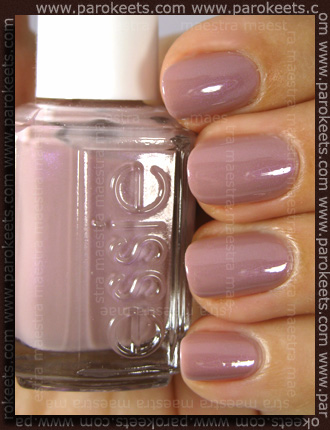 Here's a close up of the shimmer.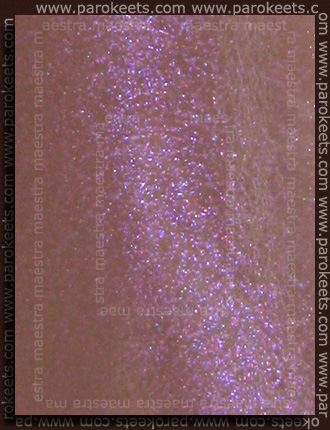 Haute As Hello is a creme light coral. It dries to a satin finish. I put it under the black light but it's not a real neon. It doesn't "glow" that much under the black light. There are two coats shown in the picture below.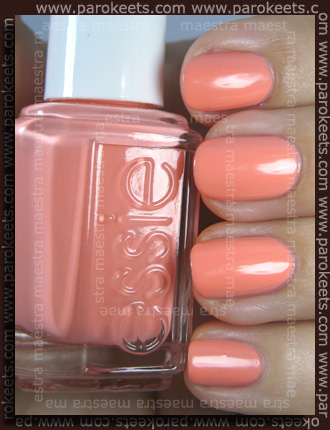 Knockout Pout is a neon hot pink. It dries to a satin finish. This one is neon. It "glows" under the black light but not as much as last years neons by Essie.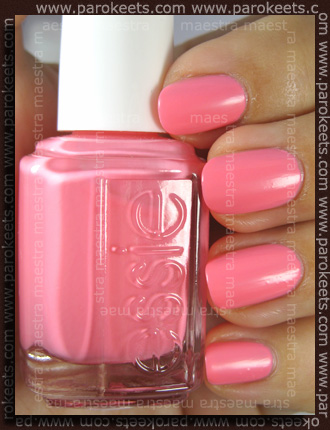 Under the black light …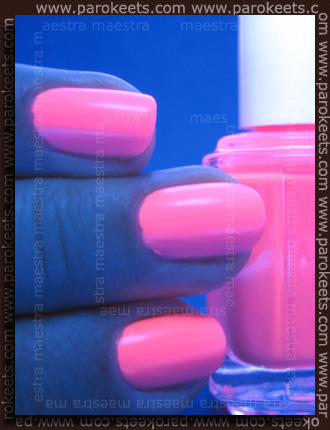 Miss Matched is a very light pink creme shade with lilac undertones. It's surprisingly pretty. It's on the sheer side. There are two coats shown in the picture below.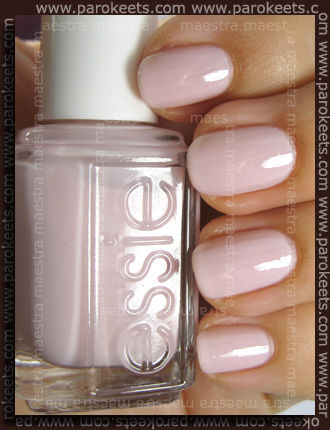 Pretty Edgy is the star of the collection for most people and for some it's just disappointing. For me, it's definitely a winner! I love it! It's very close to one of my favourite greens of this summer – Barry M – Spring Green. Pretty Edgy is a bit darker. The formula on this one could be a bit thicker. Most pople are disappointed because it's a three coater. Well, I'm not, because for me two coats were enough.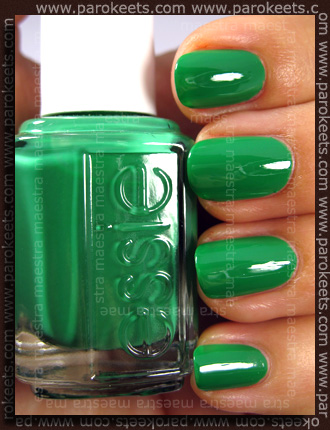 Vermillionaire is an orange creme leaning toward red. Two coats shown in the photo below.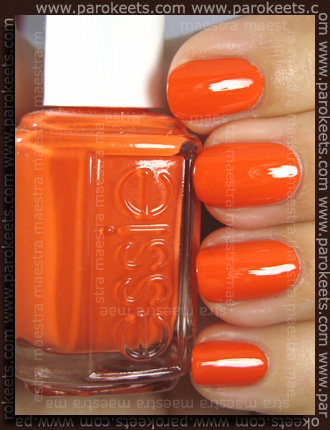 I didn't have any problems with the application, which is a big plus! Pretty Edgy and Demure Vixen could have been more pigmented and not as watery as they are. Miss Matched was a bit streaky for me, but far from some other sheer shades from Essie. Knockout Pout applied great for a neon shade and it was very pigmented. Vermillionaire was a dream to apply. All in all, great collection in terms of application.
I can't believe there's not a single red in the collection!!! While I don't love the whole collection (I'm not a pink and coral lover), I do love Pretty Edgy and I think Demure Vixen is very pretty too.
Bottom line is, it's a solid collection in terms of color and great collection in terms of application.
Please let me know in the comments how you like the collection? Are there any interesting shades for you?
I'll have some comparisons for you soon. And even before comparisons I'll have for you swatches of the fall collection. Stay tuned!