Yes, another Trend Edition by Essence. This time it's called Denim Wanted! There are some very interesting products in the collection. Unfortunately I couldn't get everything I wanted (yet). Today I'll show you, what I got until now.
I got both of the gel eyeliners: Vintage Style and Fivepocket Grey. Vintage Style is a creme black. Fivepocket Grey is a gorgeous metallic silver. I didn't have any problems while applying the eyeliners. There is a small brush included in the box. The brush is really small, but I don't think it's useless. I used it today for my make up (see below) and didn't have problems with it. The handle is short, but otherwise it's good. In the picture above you can see, how does the bristles look like and how the brushes perform their job. I applied each of the gel eyeliners in the photo above with the included brush. The thin line is made with the narrow side of the brush and the wide line with the wider side of the brush.
Next I got one of the eyeshadow duos I Love My Jeans. It's a pink and light grey combo. The shades are light. The pigmentation is OK. The eyeshadow crumbles a bit, but less than the quattro eyeshadow combo from the We Saw It First TE.
Below is a make up I made with the products described above. The silver e/s is applied over the whole eyelid and in the crease. The pink e/s is applied in the inner corners and over the crease. The upper eyeliner is made with the silver gel eyeliner. For the lower eyeliner I used the black gel eyeliner, which I smudged.
I'll end this review with a gorgeous grey creme nail polish, called Fivepocket Grey. It's a great grey shade. Dark but not too dark. I see a bit brown or even green hue in it. Love it! The application wasn't problematic. Just make sure you have enough polish on the brush. There are two coats in the photo below.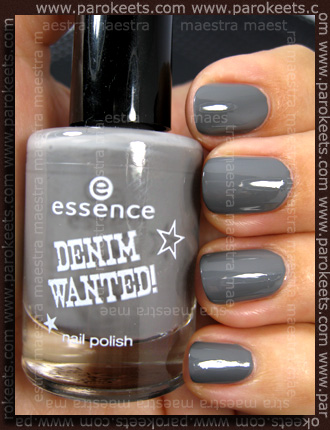 And a bonus photo … a "konadicure" made with a Bundle Monster BM16 image plate and a matt top coat from Essence. Yes, you can use matt top coat for stamping, just work with the speed of light.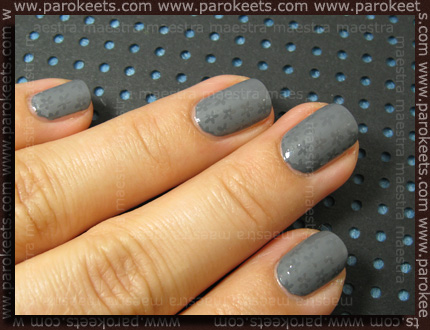 I hope you liked my review. Please let me know in the comments. I love to read them.
And if you like our blog, please subscribe. Thank you!