Gejba already reviewed the We Saw It First nail polishes. Today I'm going to review the blush and one of the quattro eyeshadows from the collection.
I was very excited about the gorgeous looking green quattro eyeshadow in shade Rock Angel. I swatched it with my finger on my hand without any base and I was thrilled. I love greens and these are no exception. My amazement ended when I tried to do a make up with these beauties. I've had problems as these didn't transfer very well on my eyelids and the colors faded and blended too much (although I didn't blend a lot). Another thing that bothered me was, that the eyeshadows crumbled. I mean, these are nice eyeshadows, but I'm just a bit disappointed, because I expected more from them.
Blush in Adorable is a winner for me. It's such a nice soft pink shade. It's nicely pigmented. Not too much, so it's easy to work with. I was afraid it's going to be too light for my skintone, but fortunately it's not. It's just the right shade for me. I love it!
Here's a make up with the reviewed quattro eyeshadows. I used Too Faced Lockdown as a base. You can see how much the colors blended. In my opinion too much. I used the darkest green in the outer corners of my lid and in the crease. The olive green is on almost the entire eyelid. The lighter green shades I used as highlighters.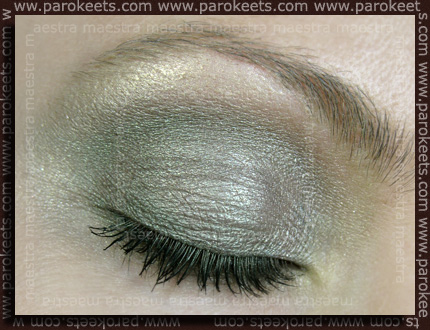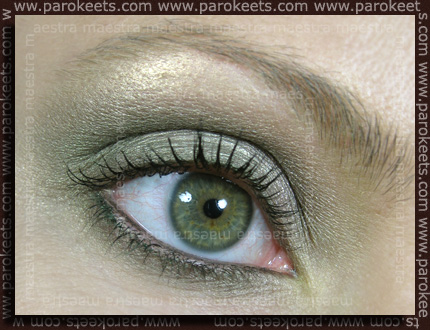 Did you buy any of the new Quattro eyeshadows? What is your experience with them?