– – – 10.10.10 – – –
What a great date! Three tens … And you know what? It's also my B-day today! Yay!
I've had a great time today. I spent it with my wonderful family, who came to visit. Just so I wouldn't be alone, because my boyfriend is on a business trip. I'm so happy to have such a great family! I love them so much! They love me and support me. They are just the best! We had a really great time today. We ate a lot. :D And we talked about everything. I was soooo happy to have them here. I just spoke to my boyfriend on the phone and I said to him, how happy I am to be surrounded with so much love. And I'm grateful for that! Yes, I'm a bit sentimental today (as you may noticed already). I hope you don't mind. I won't post any photos of today's feast, I'll just show you my B-day manicure.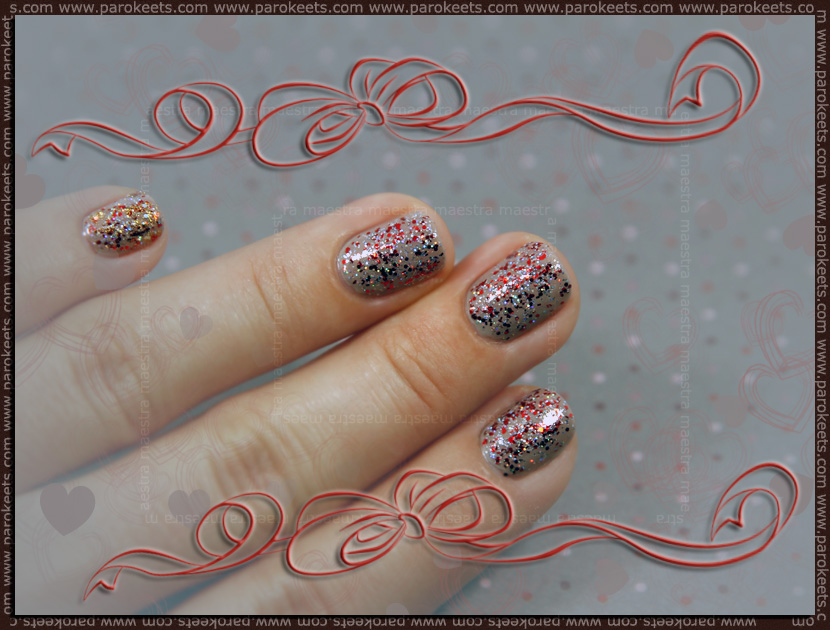 I used the glittery CND for the first time and I'm so happy I did, because it's such a great glitter polish. It's packed with red and silver-holo glitters. Perfect! I just don't like the name – "Last Call". Just because of the name I almost didn't put it on my nails today. Isn't that just sad? But I said to myself: "The last call I received was a very nice one. <3" And then I put on the glitters on my nails. It's not hard to guess, who called me, right?
"Sweetheart, I miss u very very much! "
Thanks to my wonderful family to make this day full of love and happiness!
Thanks to all my friends for all the kind words and wishes! Love you all!
I just wanted to share my happiness with all my readers today. Just because … there is not only sadness in this world. There are also very good days. Days to remember.
When was your last "day to remember"? Share with me some happy thoughts and memories in the comments. Make this day even brighter and shinier. Thank you!