I love Deborah's new collection for fall 2010. It's called Dandy Glam. There are some great products in the collection and the colors are gorgeous.
Eyeshadow palette in two versions: 01 Silver Charm and 02 Emerald Rose. According to the promo material, there supposed to be two different finishes in the palettes: matt and metallic. I don't know what they ment with matt and metallic, because I don't see any eyeshadows with metallic nor with matt finish in these palettes. The darker colors in the palettes are actually low shimmers (tiny shimmer). And the lighter shades are shimmers bordering on glitters. There's a bit of fall out with these, so … I would have preferred that these would have been less shimmery. Other than that I think these are decent palettes, which you can use wet or dry. See swatches above.
Atomic Red Lacque in 01 Very Red is a fantastic liquid lipstick. It's super pigmented, easy to apply, it's matt and it doesn't dry my lips. I love it! It's probably my favourite product from the collection. See swatches above.
Here's a very simple make up I did with the eyeshadow palettes.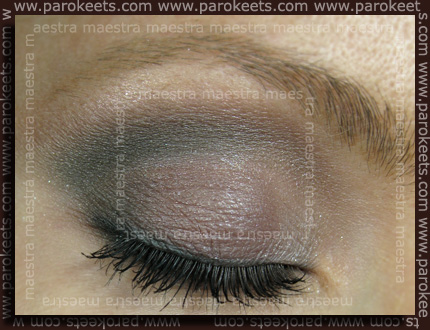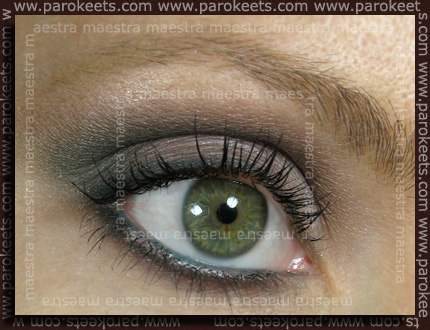 Sense Tech – 07 Woody Green is a dark green nail polish with a satin finish and hidden shimmer. Shimmer is only visible when polish is glossy and under a strong light. See swatches below.
Sense Tech – 08 Dark Grey is a dark grey polish with satin finish. Nice polish that is easy to apply. See swatches below.
I think this is a great collection for fall. I'm satisfied with everything I bought. I still have some things on my wish list (lipsticks). We'll see …
The only thing that really bothers me about this collection: There's no testers. Why?!? How can I buy a lipstick, if I can't see the shade?!? No wonder nobody wants to buy them … Can you understand the seller's logic? I can't!
Please let me know in the comments, what do you think about Dandy Glam collection?