I spotted the new Artdeco collection called Coral Kisses in a store nearby. The name of the collection explains it all. Coral shade and lips. If I'm not mistaken, there were six different shades of lipsticks in three different formulas. I also remember two shades of lip liners, four shades of eyeshadows and a blush. I'm sure there were some more products that I forgot to mention. Well, here is what I bought.
Lipsticks:
High Performance Lipstick – 433 Corn Poppy is a coral-red lipstick with tiny shimmer. Applied on my lips it looks orange. I asked my BF about the lipstick. He said that it looks good on me. He also said that it's a bright and noticeable orange but not too bright. The lipstick is highly pigmented. The application is easy. It feels a bit dry on the lips, but it doesn't actually dry the lips. I love the packaging, which is heavy feeling silver aluminium. Very elegant. Price in Slovenia: 12,80€ for 4g of product.
Perfect Color Lipstick – 36 Pink Thistle is a … O my, I really don't know how to describe the shade. It's in the same territory as MAC's Viva Glam – Cyndi, but Pink Thistle is pinker. The pigmentation is great. It feels a little less dry on the lips as the High Performance Lipstick. But none if them is drying or too dry for my taste. The packaging for the Perfect Color Lipstick line is black aliminium (I don't know what's the actual material, but I know it's not plastic). Also elegant, but it would be even more elegant looking if the shape would be square instead of round. Well, that's just a personal preference. Price in Slovenia: 8,92€ for 4g of product.
I haven't have the chance to try how long they last on the lips, but I have the feeling that I could get a couple of hours of wear with these. I have to mention that lipstick (or lipglosses) in general don't wear well on my very small lips. I tend to "eat" the lip products pretty fast.
I also bought a Soft Lip Liner – 84 Mexican Aster. I'd describe the shade as a dark mauve, but you know already that I'm not very good at describing colors. The color is almost the same as Illamasqua – Wanton lipstick. The pencil is soft but not too soft. I think it's a good lip liner. Though it could have been a bit more pigmented and a bit easier to apply.
The not very good swatches of all the products I bought in one small photo. I really didn't like my swatches, that's why the photo is so small.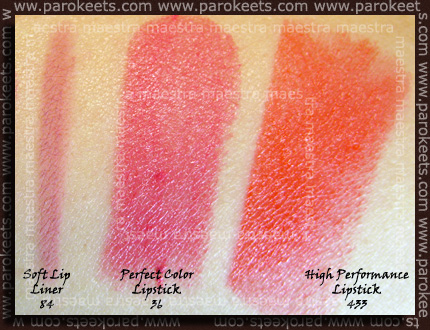 These were my thoughts about the products that I bought. What do you think about them? And what do you think about the Coral Kisses collection?