Alessandro It Girl LE already hit the stores. Today I have for you four shades – I received 2 for review from our Alessandro importer (Dancing Queen, Pretty Ballerina) and bought other 2. Well – Maestra bought them for me since I was really sick at the time. And on top of it, she also made swatches of the shades she bought.
Let's begin with Dancing Queen – polish with lovely name and shade. This is not really a taupe shade, since it leans too much to violet side. But is has a lot of tiny shimmer that casts grayish coat in bright light so the polish looks brownish-grayish-violet.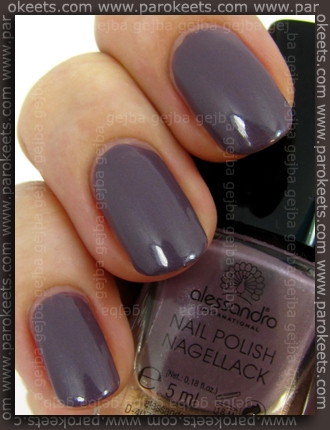 I was still sick while making these swatches, so I was unable to capture shimmer detail on the nails … to much coughing, sneezing … That's why I photographed shimmer in the bottle.
We're having really lousy weather, so I had to take outside photo of Dancing Queen in cloudy/gray surrounding. In real life color is a little more violet than on the photo, but let's say that you see the difference.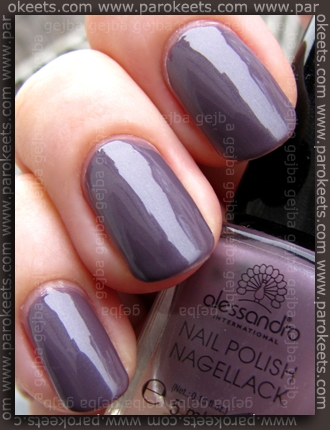 Pretty Ballerina is a little too candy pink for my taste. I will refrain from classifying this shade as creme finish, since I saw some shine/sparkle in couple of photos and I'm not sure whether I saw shimmer or just reflection. I'll have to wait for sun to make sure it is really a creme shade.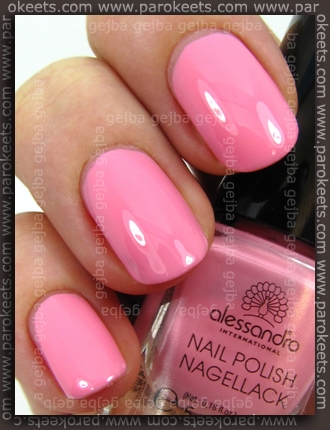 I think Alessandro Crash Coat polish goes lovely with this shade. OK, OK – maybe I exaggerated with thickness of crash coat.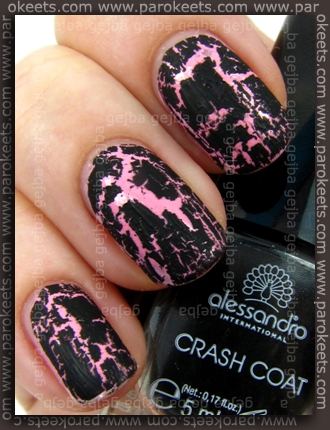 Application? I noticed that I had to shake both polishes to achieve good viscosity. And no bubbles appeared. But if I did not shake the bottle I had bold spots in the mani and the polishes were kind of watery. The only other Alessandro polish I had the same experience with, is Crash Coat … and I have quite a few minis since I adore them and Alessandro minis are my favorite ones. I wont say this is a problem since it's not, but it is something you should be aware of, since it would be really easy to put both shades in streaky category … and they're not.
I asked Maestra to pick up for me two other shades from this collection – On Tour and Cheeky Devil (what can I say – another shade with cute name :D ). I'm also tempted by beige shade, but I have to see that one in real life before I decide whether I'll buy it or not … if I manage to find one that is.
5ml mini polish costs 5 EUR (little less than 7 USD).
Maestra took photos and wrote review for On Tour and Cheeky Devil shades.
---
On Tour is pretty creme violet shade, that turned out too blue in all the photos I took. So I "helped" it out a little bit and "made" color more realistic. No problems with application. I used two layers.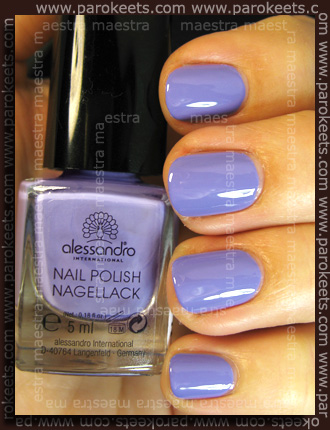 Quick comparison of few violet shades in my collection. They're all too blue on the photo, but you can still see which ones look alike and which ones do not.
Cheeky Devil is perfect spring shade. It looks really fresh. But even-though I love the shade it does not compliment my skin tone. Application was a little bit streaky but that is quite normal for those kind of shades. Two layers were enough to tame it.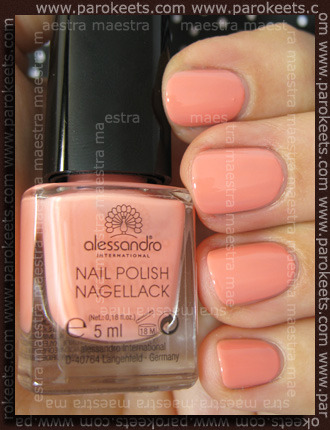 ---
I can hardly wait to test "Maestra's" shades. Especially Cheeky Devil looks like something that would look nice on me.
Did you get any shade from this collection? Do you like any of the shades we showed you today?