Essence I Love Berlin TE never came to Slovenia. And on top of that, polishes were sold out in every country we visited.
And then suddenly I got email from Maybe asking me if I still want them … I Love Berlin TE just arrived in Croatia and stands were still full. We quickly arranged a swap and Maestra and I received a lovely package.
Maybe was really nice and sent me the package the same day she bought everything, but shortly after I received it, I got really nasty flu so it was a while before I got better.
I got all the polishes except matte green tip painter.
I'm really busy at the moment, so I made swatch on nail wheel only. Polishes have nice formula, drying time is OK … Darker shades are probably good for stamping, but I still have to check them out. All the polishes have creme finish.
Green Grass, Buddy Bear and Berlin Story are must have for me … I'm sure they made them with my preferences in mind. :D
Love This City and I'm A Berliner are also OK, since they muted the pink and green a bit.
Maestra received Style Victim palette and Green Grass polish and both of us receive bath bomb as a gift from Maybe.
---
The I Love Berlin palette is really nice in get it why it sold out in almost a second. The packaging is nice in it doesn't feel cheap. There's a big mirror inside. I didn't expect much from the eyeshadows. Essence eyeshadows aren't really known for their good quality. I have to admit that I was pleasantly surprised.
Eyeshadows in the palette are actually OK. I can't really tell, how they perform on the eyelids, because I've only swatched them so far. These all seem to be nicely pigmented.
Here's a quick description of each eyeshadow in the palette (from left to right and from top to bottom in the photo bellow):
– beige – maybe a good highlighter for the eye make up
– black – good pigmentation; I'm impressed
– red – good pigmentation; I'm impressed
– dark green (maybe even teal) – good pigmentation; I'm impressed
– light green – very light and dull color; too light for me
– peachy – almost invisible on my skin
– blue-purple – good pigmentation; I'm impressed
– light blue – it's completely useless for me as shades like these look awful on me; if you like these kinds of shades, it's a nice eyeshadow
– grey – nice grey, very useful.
In general:
I think the palette is a good mixture of light and dark shades. I think it's great for not very demanding users that don't have a lot of make up at home. I recommend the palette, because I think it's good value for the money.
If I speak for myself. I'm partially satisfied with the palette. But you know I'm demanding when it comes to eyeshadows. I love four out of nine shades and I two more shades are OK for me. I guess six out of nine is pretty good, right? In the end I'm not all crazy about the palette. A big plus for me is a nice red eyeshadow and a good price. But I'm pretty sure I'm not going to use this palette a lot.
---
Couple days later Mamy found liquid eyeliners + I'm a Berliner and Berlin Story polishes …
I have two liquid eyeliners that are very different. First one 03 Buddy Bear looks almost black, but if I look at it at different angle I can spot gray, blue and silver color. It's very pigmented, has good staying power … perfect.
Second one 05 I'm a Berliner is light yellow-green, poorly pigmented, has lousy staying power, is watery and is almost invisible as eyeliner. I had hard time making thin line whit this product.
Conclusion: I'm very satisfied with first one and disappointed with second one.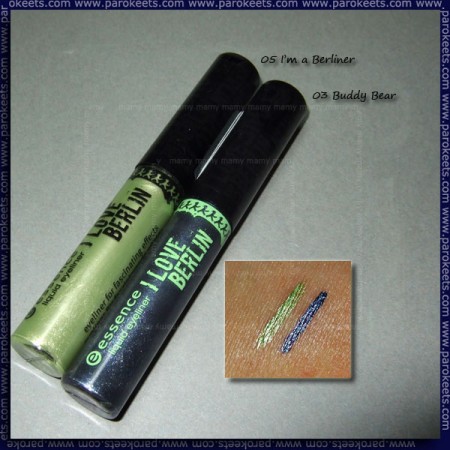 I'm a Berliner: light yellow-green shade. Polish is very watery, application was difficult. I used three layers on the photo, no top coat. Finish – creme. I love the shade it self – it looks a lot like my car.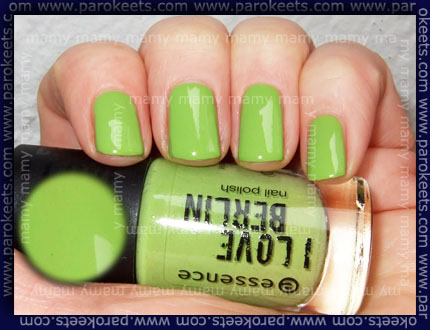 Berlin Story: black polish with just right viscosity, 2 thin layers. one would be enough since it's very pigmented. Finish is also creme, no problems with application.