Dear friend just came from Germany and brought me all four polishes and eyeliner palette from Essence Whoom! Boooom!!! TE.
Essence decided to give us fresh/spring colors in their "pop art" collection.
The lightest shade is You've Got The Art. Pastel yellow shade with green tones. This shade can be more greenish or yellowish – depending on light source. Application was not easy, but two coats were enough for decent look.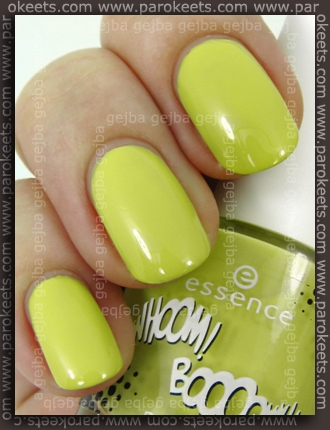 Orange shade is called Andy, You're A Star. Very interesting shade that can be very lively or almost pastel like orange. I only managed to capture lively orange on the photo and to do that I had to wait until the next day for sun to come up. :D Application was easier than with You've Got The Art polish.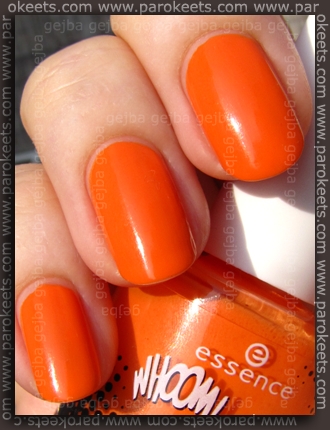 Roy's Red is berry shade … I guess. I looks deep pink most of the time but it does lean on the red side every once in a while.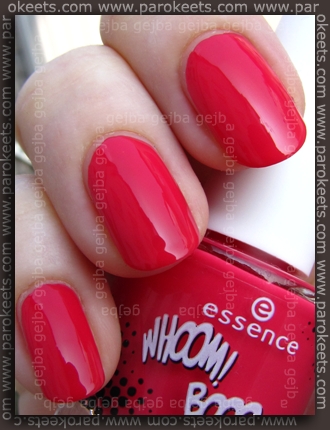 The blurple in the Whoom! Boooom!!! TE is called Chacalaca. Application was easy, one coat is enough for full opacity. I was sure this shade will look awful on me, but I was glad to see that I was wrong.  This shade had more than one side too – it can be blue, purple, blue-purple …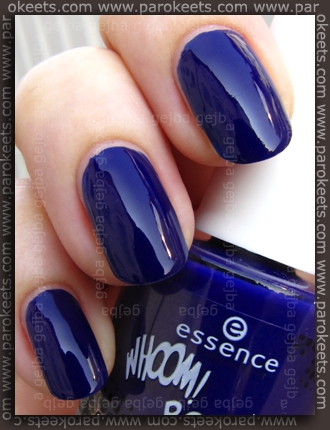 All polishes have creme finish and in each and every one I hated the soft and bushy brush … I had really hard time controlling  it.
Each 8 ml polish costs 1,79 EUR.
Whoom! Boooom!!! TE had another interesting product for me – creme eyeliner palette – Kawoom. Cardboard box with magnetic closure contains four colors and a brush. I don't think this kind of packaging will keep eyeliners from drying out in record time, but let us hope that I'm wrong, since colors look really nice.
I do not like the brush at all, but I did the swatches on the right side of the photo with it … the best I could do. It lacks firmness to be really good eyeliner brush.
I like the colors in this palette … even though the lightest eyeliner looks almost invisible on me. Green shade is my favorite – I love the gold shimmer in green base. Blues is not really my color and darker gray shade has too much shimmer in it but I can see using both of them from time to time. I intended to use this palette as my secondary base, but since darker colors leave color stain on my skin I'll stick with original usage.
I had some extra time so I did a quick test on my eyes – eyeliners started to fade after couple of hours, green and blue had best staying power, but the green one irritated my eyes. 
Cream eyeliner palette cost 2,99 EUR in Germany.
See any must haves in this post?