Official description of Barry M's Dazzle Dusts:
"A spectacular collection of breath taking loose, highly pearlised powder available in a profusion of colours to enhance your eyes, cheeks or lips.
Each little pot contains multiple facets of intensive reflective colour that glides on smoothly adding sparkle and sheen.
These luscious shades can be applied bright and bold or shimmering and subtle, with over 60 original colours to choose from everyone can find a favourite pot or two or three… "
Today I'd like to show you six Dazzle Dusts by Barry M. While I was in England I bought three of them myself and three of them were given to me for review.
99 Bright Indigo is a matte shade of purple. I think it's a bit too purple (IRL it's a bit more purple than on some of the photos shown here) to be called a real indigo shade. It's very pigmented.
84 Cherry Red is a shimmery red shade with pink undertones.
73 Red is a shimmery red with orange/gold undertones.
53 Chocolate is a very nice shimmery dark brown.
98 Petrol Black is an interesting shade. At first I thought it's a regular black based shade with blue shimmer. Well, it is, but as you can see below it also has a bit of purple to it.
92 Aqua Gold is a turquoise shade with gold shimmer. From the photos in this review you can see that sometimes it looks more green and sometimes more blue.
Swatches …
Price in Slovenia: 6,55€.
Price in the UK: £4.59.
The Dazzle Dust loose powders come in glass containers with a dark cap. The containers remind me of the Gosh containers for effect powders. The Dazzle Dust loose powders are well pigmented and easy to use. I didn't have any problems with the ones I have. I always apply loose powders over an eyeshadow base. That way they stay in place for hours. You can also use them on the cheeks and lips. Be creative with these babies.
As a bonus I have two make ups for you using mainly the Dazzle Dust loose powders shown above (and some eyeshadows from the Sleek i-Divine Acid and Bad Girl palettes).
Black-green-gold make up… Hightlighting is done with the lightest shades in the Sleek i-Divine Bad Girl palette. Do you see how green the Aqua Gold looks in the photos below?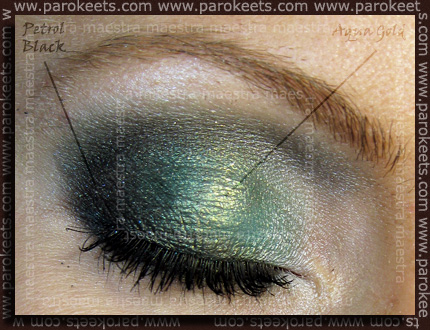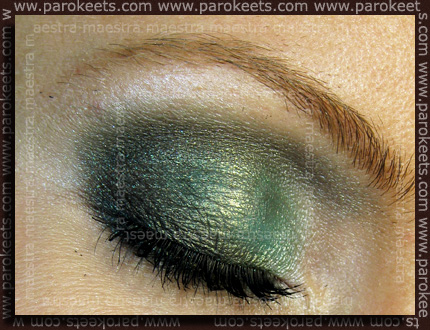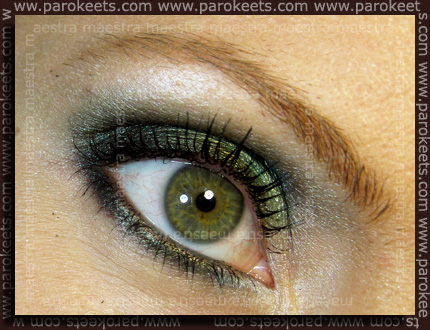 Colorful make up … The white, yellow and blue shade is from the Sleek i-Divine Acid palette.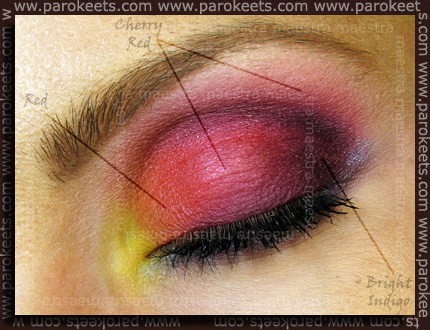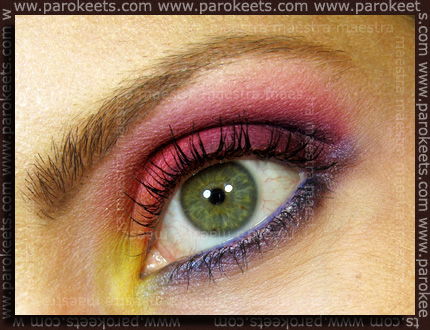 What do you think of Barry M Dazzle Dust loose powders? Have you already tried them? What are your favourite shades?
*Some products were sent to me for review.