While visiting my parents I spotted a commercial leaflet for one of the drugstores featuring new Deborah LE. I think I started to salivate when I saw all the gorgeous colors in miniature bottles at the discount rate. My mom told me I was nuts when I said I wanted all 40 shades.
In the end I bought "only" 12 shades from Deborah Pret A Porter Collection – I didn't find all of them and some of the ones I saw I didn't like.
I put all of the shades on a nail wheel. Colors are not 100% accurate, but are close enough.
Unplugged (08): darker taupe shade with purple undertone. Creme finish.
Rose Chiffon (09): rose mauve creme polish. More muted shade than on swatch.
Love At First Sight (13): sheer pinkish base with lots of glitter.
Emerald Bijoux (25): I had high hopes for this green shade, but it turned out to be extremely sheer. I think I used 5 layers to get good coverage.
Jumper Green (24): very lovely darker forest green creme polish with good coverage.
Sunset Cocktail (18): sheer orange shade with shimmer.
Celestial Sky (28): is in real life a less blue with a hint of violet. Shimmer finish.
Turquoise Fever (27): my favorite shade. It's has a lot of blue and green so it can be either green-blue or blue-green.
Stardust (26): silver green foil finish polish. This one also applied very sheer.
Lilac Seduction (32): is more of a layering polish than anything else. I think this one was also 5 coater. Color is a lot more vibrant in real life.
Knock Out Violet (35): is very pretty blue-violet shade with lovely shimmer. Swatch looks to blue (first swatch is more realistic).
Burgundy Passion (36): brownish shade with red shimmer.
I wore Deborah Turquoise Fever for couple of day and I'm impressed with quality. Good coverage and swaying power – the only damage on day 3 was slight tip wear … most of the damage was done by Poshe top coat, so the majority of the blame belongs to shrinkage. 2 coats + top coat.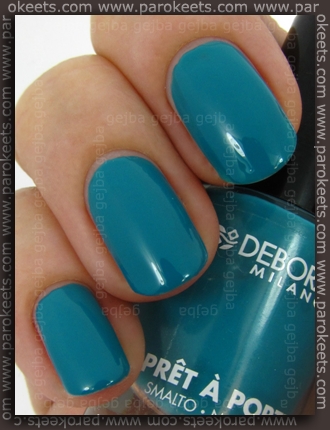 Recommended price on Deborah site is 3,9 EUR. The "regular" price listed in our store was 2,4 EUR, I paid 1,9 EUR for each 4,5ml bottle.