Essence Nails In Style TE is here and it's finally time to play with nail foils. :D
Let's take a look a what Essence has to say about Nails In Style collection:
when the summer reaches its height in July, it's also time to get your finger and toe nails in top shape! because what could be better than creating the perfect nail style to go with your outfit or your favorite high-heels? with the new trend edition "nails in style", essence is offering a special product collection in July 2011 that will draw all attention to your gorgeous nail. playful nail crystals, seductive nail polishes in cool summer colors or extravagant and innovative nail foils – with the new products by essence, your nails will really be "in style"!
4 nail polishes + 3 nail transfer foils equals lot's of play time for me. My first attempts with Essence foils were not stellar but I'll show them to you anyway.
Let's start with nail polishes in Nails In Style TE.
Style For Summer Nights is silver polish with foil finish. I needed two coats for for full opacity.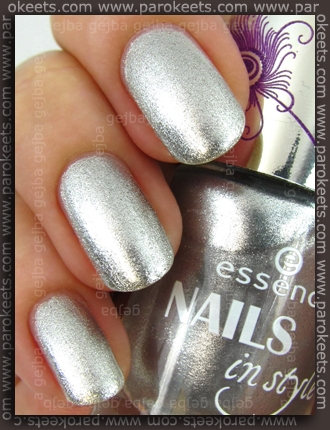 Style Me Love is another foil finish polish in this collection – this time in pinkish shade. Formula is thicker than in Style For Summer Nights polish, but on the bright side you need only one layer to cover up visible nail line. 2 coats + top coat.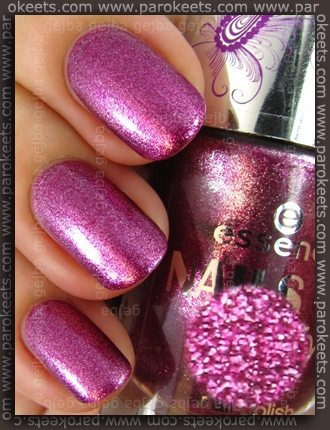 Style Me Holo is of course not holographic polish but falls into the duochrome category. You can see green, blue and purple shades in the polish. It's quite sheer – so 3 coats are needed.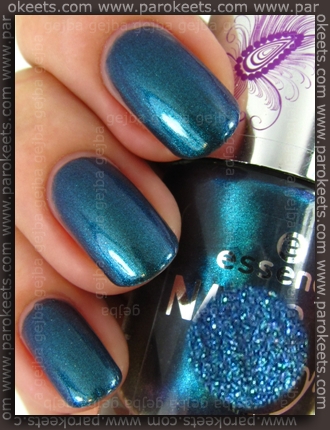 Last polish in Nails In Style TE is Styl-is, Baby! This is one of those green polishes that are going through identity crisis – should I be completely green or lean to the blue side instead? If you use thicker coats then 2 are enough, otherwise 3 are needed. Finish is slightly frosty. 2 coats + top coat.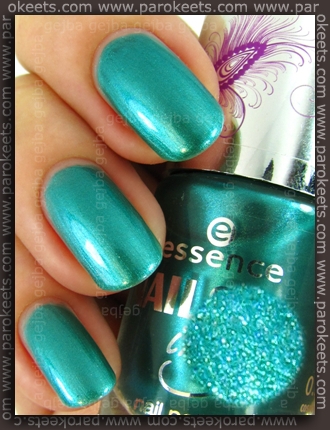 Now onto the nail transfer foils.
First of few guidelines for all the nail foil beginners:
apply thin layer of glue and try to spread it as evenly as possible;
wait few minutes to dry … glue turns transparent (in this heat 1-2 minutes were optimal for me);
take one of the strips you cut from the roll and press the foil onto the nail ("silver side"/not the one with the design side touches the glue);
try to apply foil as creasless as possible and then smooth it out with finger/cotton swab (if you have high C curve be prepared for problematic application);
if you're applying nail foil all over the nail, it is highly recommended that you use a similar colored nail polish for a base before you start with glue+foil. Nail foils unfortunately almost never transfer completely onto the nail …
if you use top coat over the manicure to make it last longer than few hours, make sure you use slow drying top coat (fast drying ones will crinkle the foil);
do one finger at the time.
After days of playing with foils I came to the conclusion that I prefer them as the "spice up" for my manicure rather than applied all over the nail.
My high C curve is problematic for all over transfer – I managed to do almost complete transfer on my pinky (lowest C curve) in the second try, but rest of the nails were nightmare.
I'm guessing that Essence anticipated problems so they suggest you use foils for nail tip, dots, lines.
You can choose among 3 different Essence Nails In Style nail transfer sets: Style My Dream, Style My Glamour and Style Me Pretty. Each set consists of 36 cm of foil and 3,5ml (0.11 fl.oz) of glue.
First I applied two layers of Essence Style For Summer Nights nail polish + top coat. When manicure was completely dry, I applied glue, waited for little over 1 minute and then pressed Style My Dream nail foil onto the nail. After I carefully removed foil I still had some empty space on one finger, so I tried to do nail tip. As this was for playing purposes I didn't really seek balanced manicure, I just wanted to try out as many designs as I could … while testing how much time is needed for glue to "dry".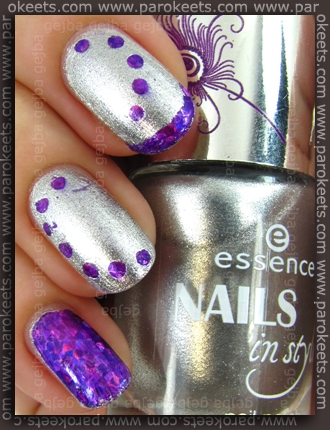 Other 2 foils I applied all over my nails … just to show you what can you expect if you have similarly shaped nails as me.
Style Me Pretty foil over Style Me Love nail polish …
… and Essence Style My Glamour nail foil over Gosh Holographic (I chose the strongest silver holo in my collection as a base). The foil looks to blue on the photo – is more silver in real life.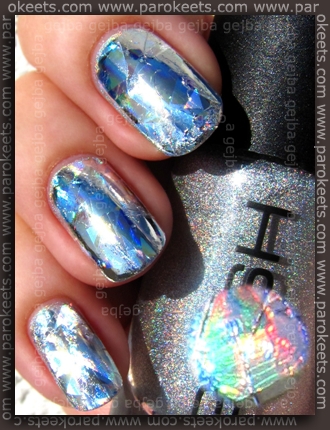 After all is said and done I would still use Style Me Pretty and Style My Dream all over the nails. If base polish is close in color, bold spots are not that visible … unless you look at them at the really close distance. Style My Glamour gives wonderful holographic effect, but I love it more for designs than all over manicure.
I was playing around with foils for quite some time, so my darling came to see what I was doing. He commented that every single thing is from Essence.
I looked at the table and saw: Essence base coat, Essence top coat, Essence dotting tool, Essence nail polish corrector pen + 4 Essence Nails In Style polishes and 3 nail foils. No wonder he thinks I'm Essence addict. 
Prices:
8ml (0.27 fl.oz) polish – 1,79 EUR;
nail transfer foil set – 2,69 EUR.
P.S. All the gold reflections on photos are just that – reflection from my yellow bulb.
---
Maestra tried out Essence Nails In Style Nail fashion stickers for toes.
In one package you get 16 different stickers, that's 8 different sizes. The application is the same as with the stickers for your nails on your hands. So if you tried those, you know what to expect from these.
How did I apply them?
It took me about 25 minutes to apply stickers on all 10 nails. I had problems finding right shape for me, but I somehow managed in the end. I centered the sticker on the nails and then rubed the sticker to the side with orange woodstick. I filed with medium Alessandro file and finished with cristaly file.
In the next couple of days I'll update this post with the wear time of the stickers.
*Two nail foils and nail stickers were sent to us for review.