It's been very hot in the past few days here in Slovenia. Luckily I like summer and I don't mind high temperatures. But refreshing rain showers (let's say during the night) would be nice from time to time. As I said I don't mind high temperatures, I just have to adjust to such conditions. One of the adjustments is make up. I know that a lot of girls/women/ladies don't wear make up during the summer. I understand why (it's hot and the make up melts), but I'm not one of them. I wear make up all year long. I like make up and I think a light touch of beauty products makes me look prettier and healthier. And with the right products make up doesn't melt from my skin. Yes, I get greasy skin and my forehead is shiny. (Well, whose doesn't in such hot weather?) But I don't get upset about that. I just blot my forehead with a tissue and that's it. Enough of babbling, here's the summer make up look I wore yesterday.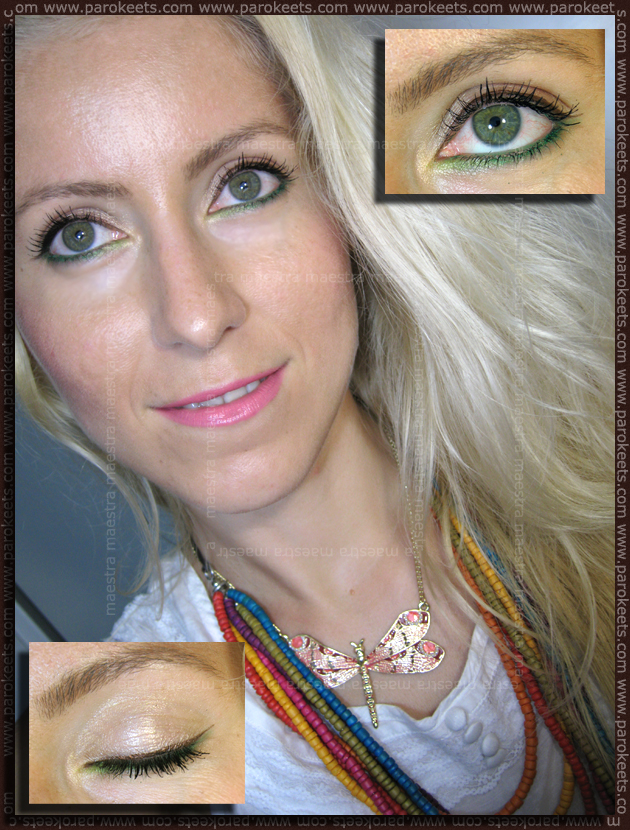 I've been wearing variations of this look for the past few days. It's very easy to do. You only need a few minutes to do it. And it's still colorful.
How to do it?
What to do is writen in black. What I used and my comments are in grey.
Prep your skin with a light foundation and concealer. I used IsaDora's SunProtection Gel Bronzer in the photo above.
Apply a light golden eyeshadow all over your eyelids. I used Manhattan's Shampaign (from the Luxopolis LE) and Essence's Mystic Lemon eyeshadows. You can put a primer underneath the eyeshadows. I didn't use one.
Apply a brown eyeliner on the top eyelid. I really like Manhattan's waterproof dip eyeliner in Tenderbrown. It's waterproof but it's not smudge-proof.
Apply a green eyeliner to the bottom eyelid. Apply it really close to the bottom lashes. I used Gosh's Velvet Touch Eyeliner in Lemon Soda and Sephora's Waterproof Jumbo Liner 12HR Wear in 10 Green. I love these pencils!!! So far I have two of them and I need more! I applied the same jumbo pencil on my waterline.
Curl your lashes and apply your favourite mascara.
Next on the list are the cheeks. Use whatever blush and/or bronzer you like. I'm wearing Sleek's Rose Gold, Manhattan's Mousse Rouge in Apricot and Barry M's Rose blushes in the photo above. I love Sleek's Rose Gold for the summer. It's supposed to be an almost dupe for the Nars Orgasm blush. I have both and I'm telling you, they are close, but definitely not dupes. Rose Gold is more shimmery and it's more pigmented, while Orgasm is its shy cousin. I'd say that Rose Gold is OK for summer. Because of the shimmer I'm not going to use it in the winter. Orgasm is nice for all year long. I'll probably write a separate post on my favourite blushes and bronzers. I just need to find some time to do it.
The very last thing is lipstick. Although I'm not a pink person, I like nice fresh pink lips for the summer. For me it's very hard to find a nice pink lipstick that looks really nice and pink on me. My latest addition to "my lipstick collection" is Lancome's 342 Darling Rose from the Color Fever line. It was half off, that's why I bought it and I really like it!
Here's a photo of (almost) all the products. I forgot to include the Lancome lipstick.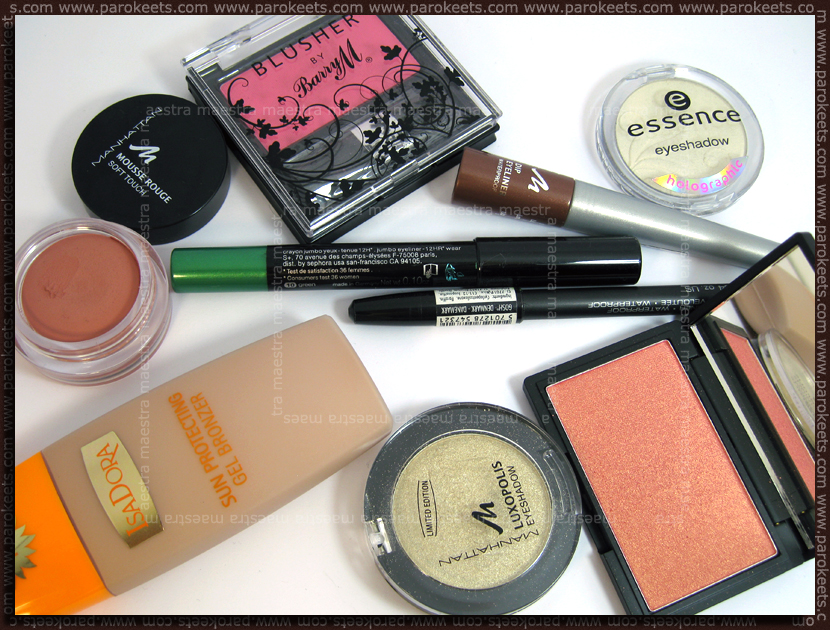 That's it! Really easy to do. I hope you liked it. Please let me know in the comments what is your go to make up for summer.