Last fall (or was it winter ) Maestra brought me Hip Queens Wear Blue Jeans from Germany. I asked her how come she didn't pick up Run Forest Run shade as well, and she told me that it wasn't really my kind of green … that the color reminded her of Ljubljana's benches. How sad – and it looked such a lovely shade on the swatches I've been seeing around.
I visited Austria couple of months later and saw this pretty dark green polish on Catrice stand. Shade – Run Forest Run. And it hit me – Catrice followed Essence trend of changing the content but keeping the name.
Sure enough – there was lighter yellowish toned green in the bowl when Catrice polishes came to Slovenia (with lots of other mysterious color changes beside Run Forest Run). I bought that shade too … just because. :D
Fast forward to spring time. :D I was waiting for Maestra by Ljubljanica river when I spotted green bench. Catrice Run Forest Run shade immediately came to my mind, so I took photo of the bench with my mobile phone. Color looks prettier that it really is.
And here is swatch of new Catrice Run Forest Run: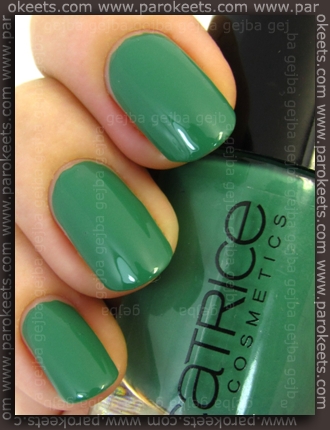 Maestra knows me well – definitively not my color.