I practically don't wear false eyelashes "in real life". I don't know … I guess I'm just paranoid that they would fall off while I'd talk to someone or they would fall into my soup while dinning or something like that. That would be a catastrophe for me. I would also feel terrible if the edges would lift and someone would notice it. I may be silly but these are my concerns and main reasons why I don't wear false eyelashes on a regular basis (or even only for special occasions). But despite of all that I think that false eyelashes are indispensable when it comes to editorial looks. They give the look something extra. Today I'll explain to you, how I apply false eyelashes and how I remove them. Plus I'm going to review two of Eldora eyelashes that I got for review.
Tip:
If the false eyelashes are too long, you can trim them to desired length or width. For me most of the eyelashes are a bit too short. :D
How do I apply false eyelashes?
I curl my lashes and apply mascara.
I apply the glue for false eyelashes on the lash band (where the lashes are fixed). I'm extra careful that I cover the edges.
I wait a few moments (maybe a minute or so) for the glue to dry a bit and become sticky.
I position false eyelashes as close as I can to my lashes (starting in the middle or in the inner corner of the lid) and press gently across entire lash.
I'm especially careful with the edges/corners of false eyelashes. I carefully press and hold them down to the lid, so they stick to the lid very well.
If needed I curl the lashes again (false and mine together).
How do I remove false eyelashes?
I start at the corners and carefully lift them.
I gently and carefully peel of the false eyelashes like a sticker.
I peel off all the excess of the glue.
Most of the false eyelashes are reusable, that's why I recommend you remove them very carefully, so you don't damage them.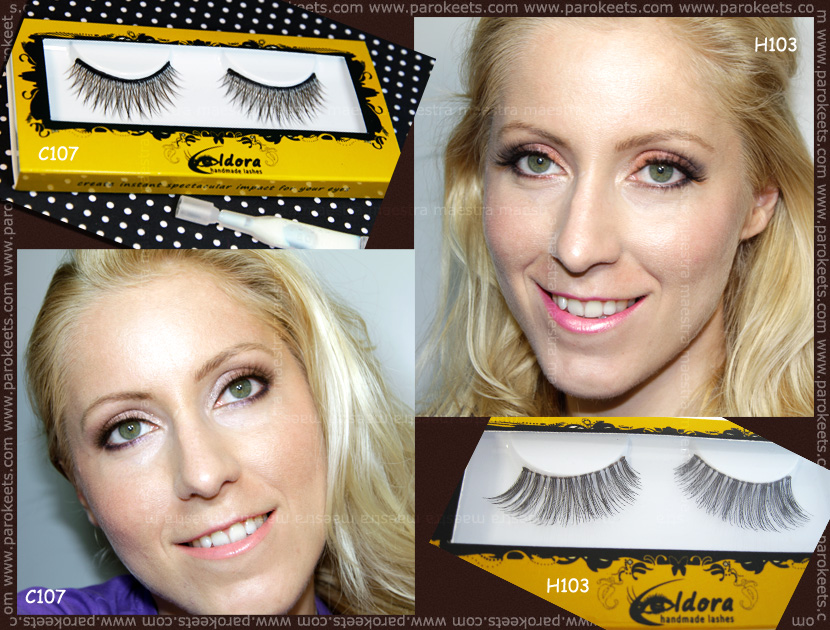 C107 Brown Cross lashes (in the photo above) are brown lashes with black lash band. The lashes are quite straight. I had to curl them after the application to make them look more natural. Only then they blended together with my lashes. After proper application and curling the lashes looked very nice and natural. I really liked the finished result. The down side is that the band is hard and not flexible enough, that's why the lashes started to lift very soon and the corners felt uncomfortable. All in all nicely looking lashes, but uncomfortable to wear.
I also have the B137 Long Light Smoky lashes, which to me look like the black version of the C107 lashes.
H103 Natural Fluffy lashes (in the photo above) are black fluffy lashes that are fixed on a transparent thin lash band. These lashes are longer than the C107 and to my surprise, these are not as natural looking as the ones mentioned above. They give length and volume and at the same time they look quite natural due to the fluffiness. And what's the most important: they were comfortable to wear and didn't lift at the edges!
The glue is included.
Do you wear false eyelashes from time to time? For what occasions? Which ones are your favourite? I'm also curious, which glue for false eyelashes is your favourite?
*Eldora false eyelashes were sent to me for review.