We've received a lot of requests for "how to" or "tutorial" articles. One of the most requested posts was a Konad tutorial. Finally I took the time and recorded a few short videos on basic stuff about Konad. The videos are really short and to the point (I hope). I hope these videos will be helpful at least to some of you. I'll also explain a few basic things about Konad in this post along with the videos. I hope the combination of videos and the explanations will help those, who have problems to transfer the images from the image plates to the nails. Let's get started. ;)
What do you need for stamping?
1. An image plate
What is an image plate and how does it look like?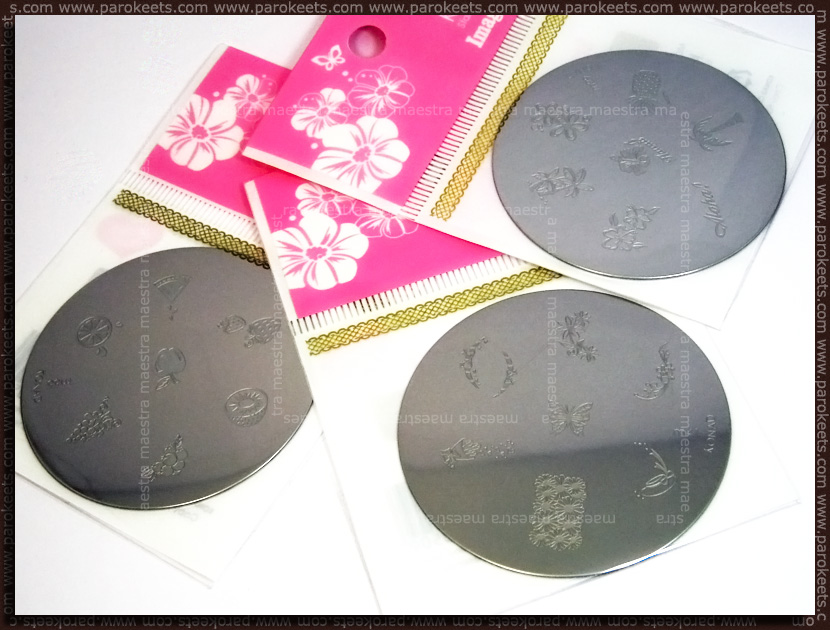 It's a metal plate with engraved images. There are different brands of image plates out there. Some are good some not so much. I really have a lot of image plates of various brands and I think that the Konad ones are the best I've come across. I've never had any problems with Konad images. All the details from the Konad images transfer nicely to the nails, while at some other brands some images just don't transfer or they transfer partially. The Konad image plates also look nicer and don't have any sharp edges, while with some other brands you have to be careful that you don't get cut on the edges. Though the all over images could be larger (some of the other brands have larger images, which is a huge plus). As I said before, I have other brands and I'll definitely buy other brands in the future, just the quality of the Konad ones is my favourite.

2. A stamper
There are different stampers available. My favourite is the double sided stamper by Konad. It has a long handle and on each side of the handle there is a "rubber". On one side there is a regular sized round rubber and on the other side is a smaller round rubber. The main difference between the stampers from different brands is the rubber. Some have harder rubbers, which means that the rubber does not "fit the nail" as good as the softer rubber. That's the main reason why I prefer the Konad stampers over the others I've tried.

3. A scraper
There are also different scrapers available. Some have metal blade and some have plastic one. I prefer the plastic ones, because the metal blade damages (scratches) the image plates and the plastic ones don't. But you can also use a credit card (or a plastic card) as a scraper. It works (see the video below)!

4. A nail polish …
… and not just every polish will do the trick. You'll need a polish that is pigmented enough. There's also Konad special polishes that will definitely work. Konad special polishes are thicker and more pigmented than the regular polishes and they also dry slower, which gives you more time to transfer the images from the image plate to your nails. There are three different lines of Konad special polishes: small, large and princess. I think that the only difference between them is the size of the bottles and also the Princess special polishes have flat brush while the others have a regular round brush. There's a video that shows the differences attached below.

Note: I've read that people don't recommend the gold Konad special polish as it's not pigmented enough. if you'd like a very good gold polish for stamping I'd recommend China Glaze's 2030 from the Khrome collection. All polishes from that collection work perfectly with stamping. Just be aware that these dry very fast, so you have to work especially fast when stamping with these.
4. Do you need an image plate holder?
No! A paper towel will do. ;)
6. What else do you need?
a paper towel
a cotton pad to clean everything
nail polish remover
How to Konad?
Before you start stamping, prepare your workspace.
* Cover surface with paper and/or paper towel.
* Clean stamper and image plate with nail polish remover.
* Unscrew the nail polish(es) you are planing to use.
* Soak cotton pad with nail polish remover.
* Arrange your workspace so everything is easily reachable.

Apply a top coat …
… but which one? Some top coats smudge the images. Gel-like top coats (like Seche Vite) work better than the "thin" top coats. The video below shows three different top coats (Ciate's Speed Coat – I'm not sure if it's still available, Essence High Shine Top Coat and Konad Top Coat). My experiences show that the Konad top coat works great (if not the best). It's thick and gel-like. Despite everything be careful when applying top coat. Be quick, apply it lightly, try not to touch the nail with the bristles of the brush. Let the brush "float" on the polish (top coat). And cover the nail with as few strokes as possible. Though I have to mention that I've had a Konad top coat before and it was thin and it smudged images like crazy. Maybe that was some old version or what. I don't know. I got Konad top coat shown in the video below a few weeks ago and this one is just perfect.

That's it!
I know this is a lot to process and some (or maybe most) of you didn't even have the patience to read to here. :D That's OK. It's important that the tutorial is posted, so you can come back and find the information you'll need in that particular moment. That's also one of the reasons, why I didn't publish one long video. I prefer short and to the point videos.
Hope this tutorial was helpful at least to some of you! If you have any questions, don't hesitate to ask.
Happy stamping!