It's been a while since I've done a proper smokey eyes look. To me proper smokey eyes don't really mean that it has to be black, it just has to be dark and heavy around the eyes and it has to look mysterious and seductive.
I tried to create just that today. Very dark, mysterious, seductive eyes. And I didn't stop there. I know that the general philosophy when it comes to make up is, either "bold eyes" or "bold lips", "never" both. Some actually think that this is some kind of rule. I don't agree with them. I actually think that there's no rules in make up, just maybe directions or philosophy or … I don't know, but definitely no rules. Everything is allowed!
With that in my mind and goth make up looks as my inspiration, I finished my heavy smokey eyes look with painting my lips in a darker red and topped it with a shimmery purple. At the end I added a touch of purple blush to my cheeks and that was it. Here's the finished look.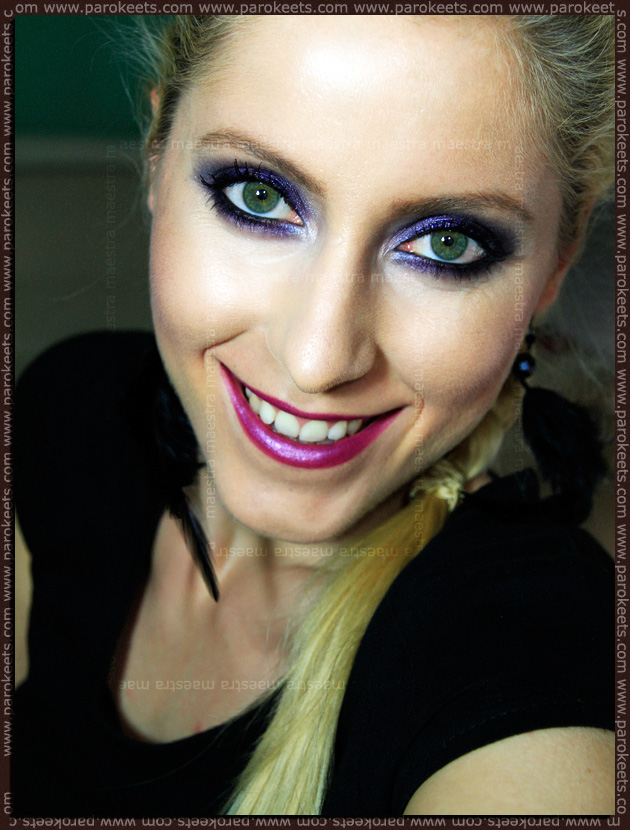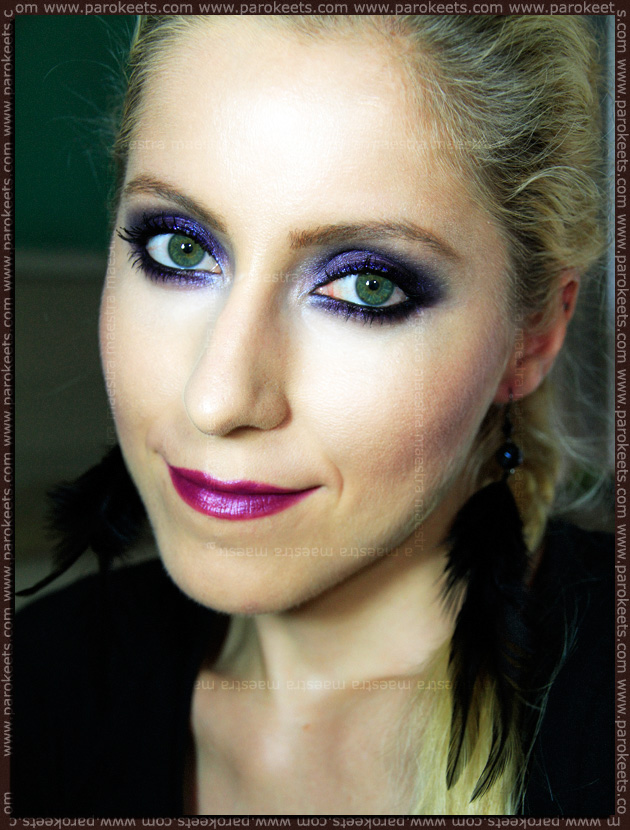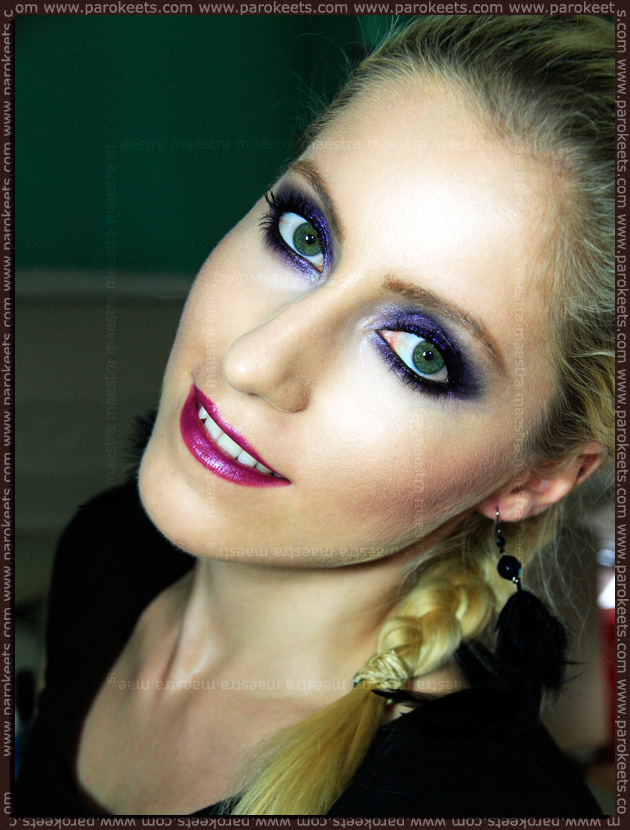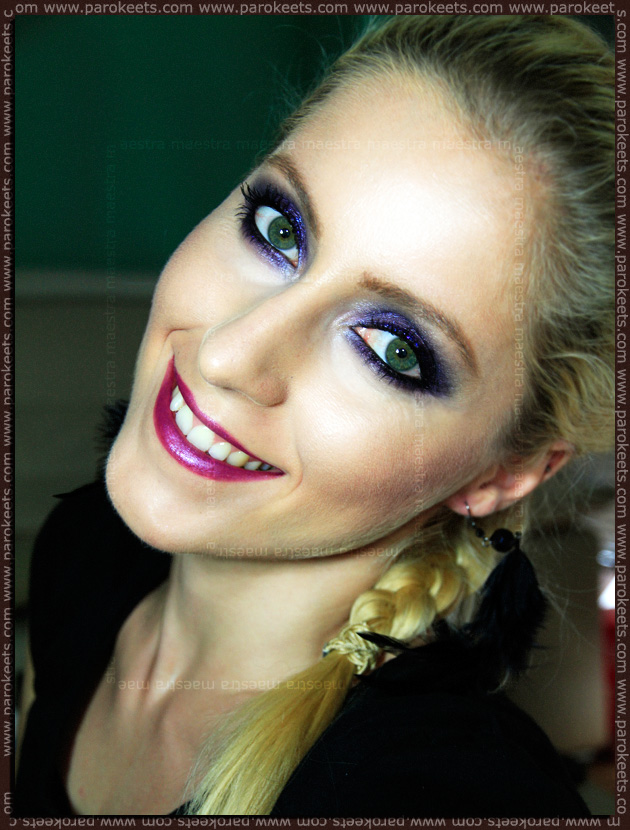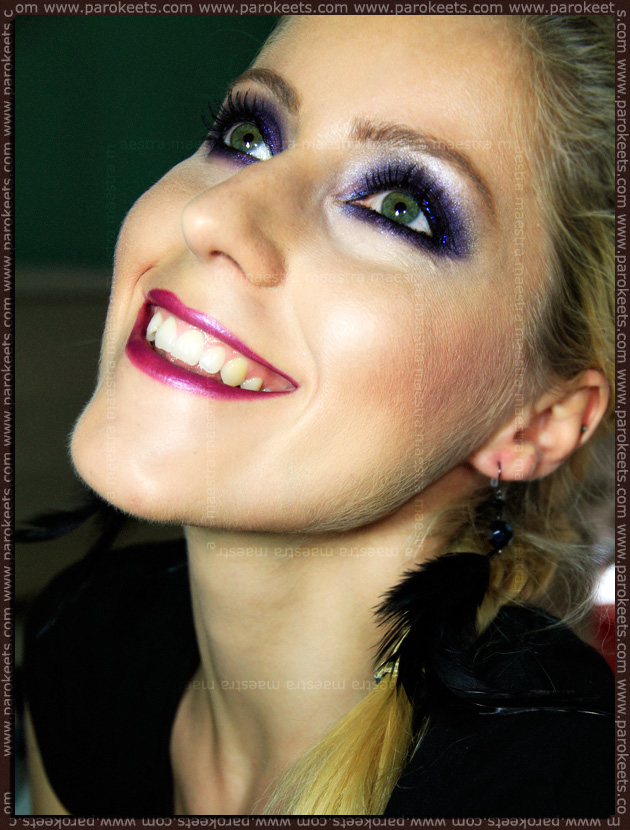 A few words on how the purple smokey eyes look was created.
I started with a dark purple base (Essence – gel eyeliner in Berlin Rocks). I lined my eyes with the same gel eyeliner and then smudged the liner a bit under the eyes. Then I applied various dark purple eyeshadows by Inglot, starting with medium dark purple in the inner half of my eyelid and finishing with a really dark (almost black) purple in the outer half of the eye. I applied the same dark purple to my crease and even a bit higher and also under the eyes. I was definitely exaggerating with everything I did. I wanted a very dark smokey look. After I was satisfied with the darkness and everything I started to add depth to the eye, by lightly applying a lighter purple (Gosh – Romance) over the inner half of the eyelids and adding some black eyeshadows in the outer corners and in the crease. I applied purple eyeliner to my upper eyelid and spiced it up with a touch of bright purple glitter. I finished the look with highlighting the eyes with a gold highlighter MNY – 701, adding black to my waterline (Barry M – Bold Black eyeliner) and applying mascara.
That's it. Hope you like it!
How do you do your smokey eyes? With black, purple, green, grey, brown… ? And how is your way to do it?