Catrice stands are still not available in our capital, so I consoled myself with few new Essence nail polishes.
The shade that immediately ought my eye was Essence In Style. It looks like blue-green-purple duochrome in the bottle, but purple pretty much vanished when I applied it onto the nails. But it's still pretty color. Brush strokes are a little bit annoying, but I can live with them as they're not that visible. I used 2 coats + top coat.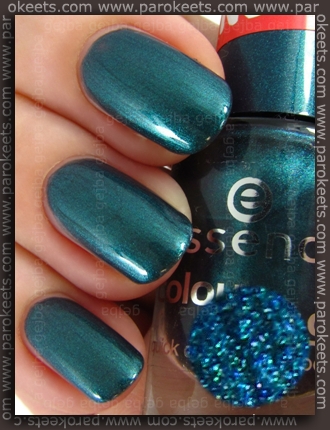 The other nail polish that I bough is Crack Me! Silver. I used normal layers and got subtle cracks. I tried applying only thin layer on one finger (not shown in the photo), but didn't really like the effect – cracks were more chunky, but tended to appear mostly in vertical line. I'll stick with the subtle crackle finish. This shade is not very photogenic – imagine cracked foil finish with a nice shine to it.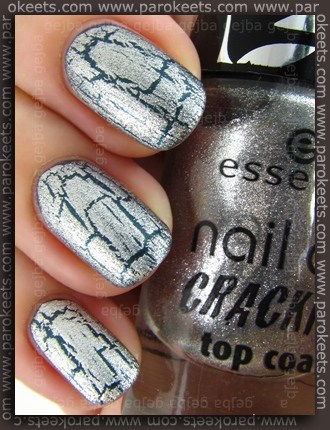 I didn't buy lots of new Essence polishes as I'm saving myself for trend editions and Catrice polishes. Are there any of the new shades that are absolutely most have? So I know what to check out next time I'm in the store. :D