Today I'd like to show you what I'm loving and doing these days.
I'm spending some "me&my books time" in Croatia on an island called Pag. It's beautiful here. It's off season and there's really not a lot of people here and I love it! The weather is amazing. It's sunny and warm (almost hot during the day). The water is nice. It's not warm but I go swimming almost everyday. And here is my mix of the day. Enjoy the photos.
That's what I'm having in front of my eyes almost the entire day. During the day …
In the evening …
---
I didn't bring much make up with me as I don't need much here, but I do need some facial, body and nail care products.
Some of my favourite facial, nail and body care products
As you can see from the photo below, I have a lot of Sophyto products for my face and I love them. I've been using their products for quite some time now and I'm telling you. These products are amazing! They make my skin feel very soft. The skin looks much more radiant and younger when I'm using their products.
I like the Depend nail care products – Myrrh Oil and Cuticle Cream.
Eucerin SPF30 Sun Fluid (and SPF50 – not shown in the photo) for my face is my favourite SPF cream for my face.
I love using oils for my body and the Terra Naturi body oil is a very nice one. It smells like lemons with honey or something like that. No almond smell.
More facial care products.
AOK exfoliating product and a clay mask all in one. There's clay mixed with some other things in the bag. You have to mix it with water. I love this product. It makes my skin very soft. I've been repurchasing it for years now.
Alverde eye cream.
La Roche Posay Physiological Micellar Solution is a great facial toner and cleanser. It doesn't dry my face.
---
What's in my make up bag?
Bourjois Healthy Mix Serum in 52 Vanilla. It's a bit too light for me at the moment. I mix it with the Isa Dora Sun Protecting Gel Bronzer in 60 Soft Tan, which is a bit too dark for me. The combination of both products gives light coverage. I quite like the effect.
Misslyn concealer in shade 10. Very nice concealer with good coverage and it's still light enough so I can use it as an under eye concealer as well.
Sleek Face Contour Kit in Light. Great product. Love it!
NYX Nude On Nude Natural Look Kit make up palette. I love this palette because it's small and it contains everything you need for a light everyday look, but you can also create a nice brown smokey eyes with it. There's also two lip shades in the bottom compartment. Very nice make up palette!
Some of my must have brushes: Everyday Minerals flat top brush (for foundation), Sephora Classic Angled Blush Brush #40 (for blush, bronzer, contouring), Gosh eyeshadow and round crease brush.
Black and brown eye pencil (Art Deco and Essence Sun Club).
---
Nail related stuff
NOTD 1: Essie – Soiree Mauve. Lovely color. Easy application. Two coats in the photo.
NOTD 2: Essie – Coat Azure. Very nice blue with tiny silver shimmer. Very easy application. Two coats.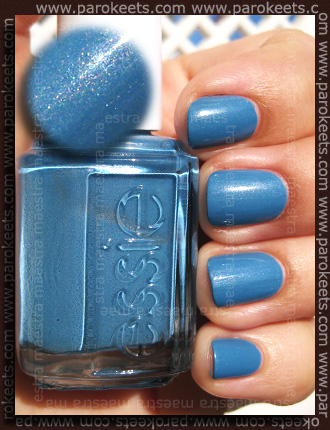 ---
And some random photos …
The other day I went for a long walk (8km). And while walking I spotted this little bird.
My Shape-Ups. These are super comfortable. I love the colors.
After a long walk I treat myself with a Nupo Cocoa Shake.
After such a long post I leave you with these two photos …
Thanks for taking the time to read my super long post.
If you have a minute of your time left, write in the comments what is your mix of the day?