As you know, I bought 13 (or was it 14) KIKO nail polishes. Some of them I already swatched and they're waiting for their turn to be published.
I loved KIKO Verde Scuro (no. 347) polish and it seemed like perfect base for stamping. I really suck at free hand nail art and had nothing else at home to do half moon manicure with, so I used one of the image from XL B stamping plate. Of course nothing goes as planed when I start doing my konadicure (I get easily bored) so I played around with colors, accent manicure … I stamped with China Glaze Sci-Fi and Metallic Muse nail polishes.
Here is the final look.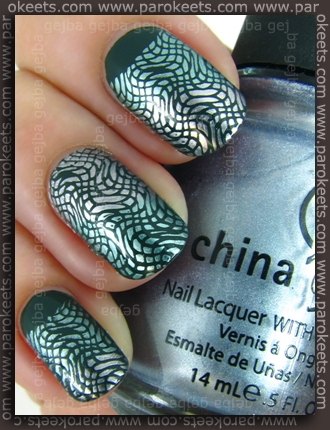 What do you think? Like or dislike?