I know, I know – I'm the slowest swatcher alive. Parokeets ladies were really lucky last week. I managed to see full Urban Messages stand and Maestra got to see Essence NATventURista TE … and she kindly bought me all the polishes.
I was really looking forward to NATventURista collection in soft and natural tones. If I wasn't saving for other Catrice and Essence goodies I would buy both eyeliners too, but as situation it as it is I chose only nail polishes.
Essence Barefoot Through The Moss is one of the most wearable nail polishes I have ever seen. Gray-green base with lots of silverish shimmer that turns multicolored in the sun. 2 thicker coats were enough for full coverage. As usually I added top coat.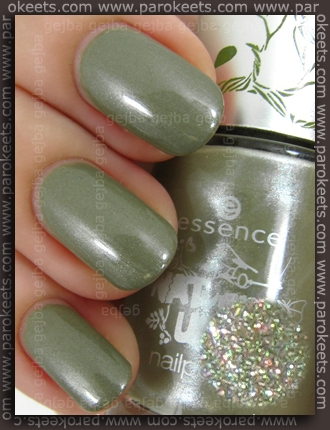 Essence Mother Earth Is Watching You is another subtle but pretty shade. Color? Brownish base with silver shimmer. More light you have, cooler brown you see as shimmer comes to the front.
2 coats + top coat.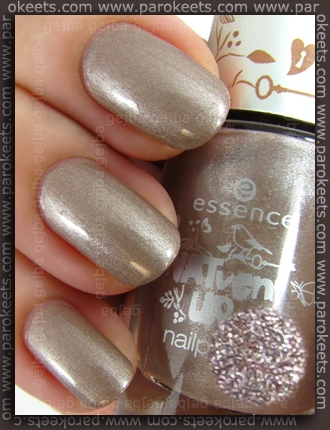 Essence Chirp,Chirp! is the shade I either love or hate on me … it all depends on the lighting. They packed lots of duochrome shimmer dust in very light beige base. In all the situations except in the sun, shimmer has lovely purple color. But the moment the sun shines directly on it, shimmer turns yellow-green … and I'm apparently not beige-green combo gal. You can still see visible nail line after 2 thicker coats, but look is fresh and clean so VNL did not bother me. You do not want to know how many hours went into photographing this shade.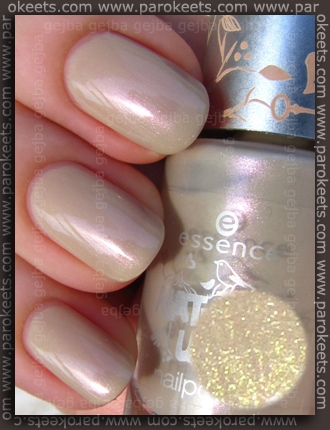 Essence You're MY Dragonfly, Sugar! needed 3 coats to look tasteful on me. You can still see visible nail line, but it is not very pronounced. Color is nothing special really – nude toned peachy shade, but it makes my hands look very pretty. Tiny glitter (glass flakes?) makes this polish look sort of dewy … most of the time anyway.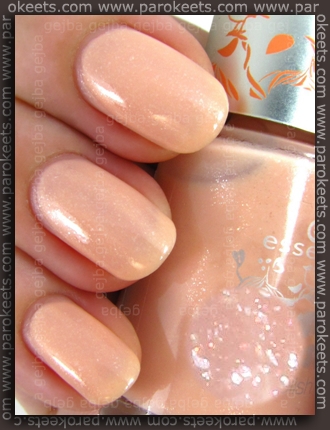 Price: 1,79 EUR (2.5 USD) for 8ml (0.27 fl.oz.).
I don't really have a favorite from NATventURista trend edition. I would be sad if I missed any of four shades.
Which shade do you find most useful and would wear the most?
UPDATE: Video of shimmer in Essence NATventURista TE nail polishes.