I'll just start with a confession…
I adore Alex Box & Illamasqua!
Do you wonder why?
Alex Box is a true artist. I love everything she does and I respect her work and if'd have an idol, she would be it.

Illamasqua is a brand with soul and that's what makes it so special in my opinion! I love their collections. Not only for their products, but mainly because of the story each of their collections tells. They make a whole world around their collections. It's like theatre. The characters are mysterious and I like that a lot. It's an art. I'm always inspired by their work. And just by looking at their promo images I get a desire to create something complex myself.
There's thousands of recreations of the Theatre Of The Nameless characters and a few of the recreations are amazing. Well, I don't like to recreate things. I prefer making my own version. And that's what I did here. I took bits and pieces (from the promo images) and created what I call a "future clown". :D
Why future clown?
My boyfriend said that the look reminds him of a weird doll. He might be true, but when I looked in the mirror I felt like a grotesque clown from the future. And it fits because I feel that our future is going to be grotesque and ugly. Hopefully my "prediction" is wrong …
If I'm honest I don't like the outcome. It looked a bit better IRL, but it didn't photograph well. Obviously clowns in the future hate cameras. I'm also very disappointed by Catrice – Pore Refiner, which make my skin looks older and doesn't hide my pores at all. I am also not satisfied with my late make up looks (editorial stuff), because I have the feeling that I'm doing the same thing over and over again. I really have to learn some new tricks … And I already started. Today I created another Theatre Of The Nameless inspired look and I think I was quite successful. I'll show you the today's look tomorrow. Here's just a small preview …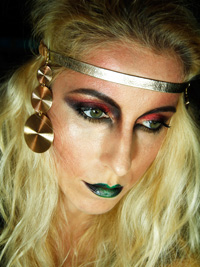 What comes to your mind when looking at the photos above?