Kiko Rosso Lampone Multicolour (no. 241) is completely unphotogenic nail polish. Not only did it turn out red in all the photos (so editing was a must), my camera failed to capture the holographic gorgeousness of this shade.
Rosso Lampone Multicolour nail polish is pink shade with occasionally stronger red undertone. Polish is not as hot pink as in the bellow photo. Holographic effect is achieved with holographic glitter so this shade belongs in scattered holo category. I used 2 coats + top coat. It slightly stained my nails, so I recommend 2 layers of base coat.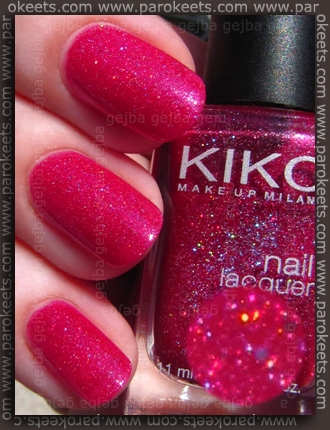 Holographic effect is nicely seen in the Kiko nail polish video I uploaded on YouTube (color is completely off though).
Those of you that are more familiar with Kiko polishes – is there any other shade with holographic glitter besides Rosso Lampone Multicolour and Viola Microglitter (255)?