As you may know Gejba and I are joining the Pink Challenge that was started by Caroline.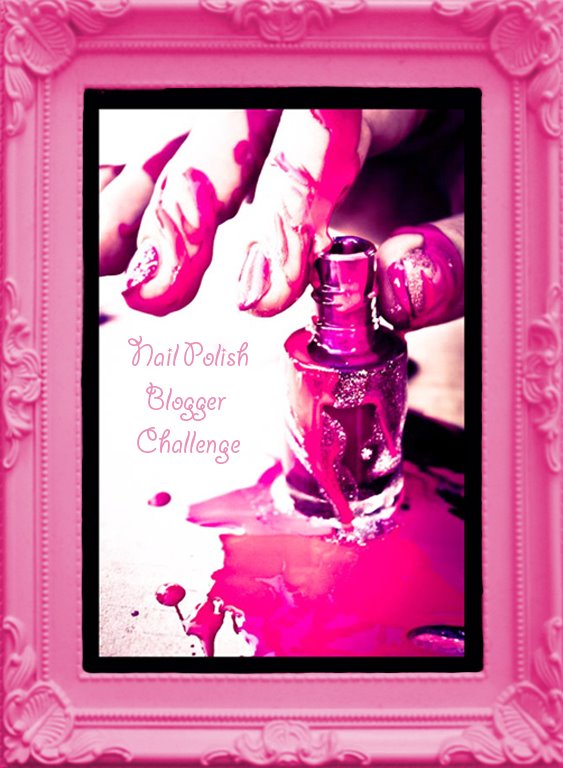 Pink is easily the worst colour possible for me as I really really don't like wearing pink polishes. And now really isn't the best time for me to wear pink polish as I'm still sad and need cheering up and not some yucky color on my nails and for 7 days straight. So this is going to be a huge challenge for me, because pink makes me from time to time. Well, to be honest, on rare occasions I like pink color but that's very rare and as I wrote before now it's definitely not the time for pink as I would prefer to wear dark polishes, greens etc. Just not pink. But I think by now you already get it that I really don't like pink and that this is going to be a huge challenge for me. But a promise is a promise, right. I already have some ideas for future manicures. I'm pretty sure that some manicures will make me , but I promised to myself that I'll try to create at least one manicure that I'll like. So here is my color of choice.
Essie's Knockout Pout. A neon pink. Until yesterday I didn't know which pink polish I'll use for my pink challenge. I didn't want pastel polish or a Barbie pink, but I still wanted a true pink, not some almost purple pink or almost red pink, because for me that would be cheating. And Knockout Pout screams pink, doesn't it? (Oh yes, neons are hard to photograph.)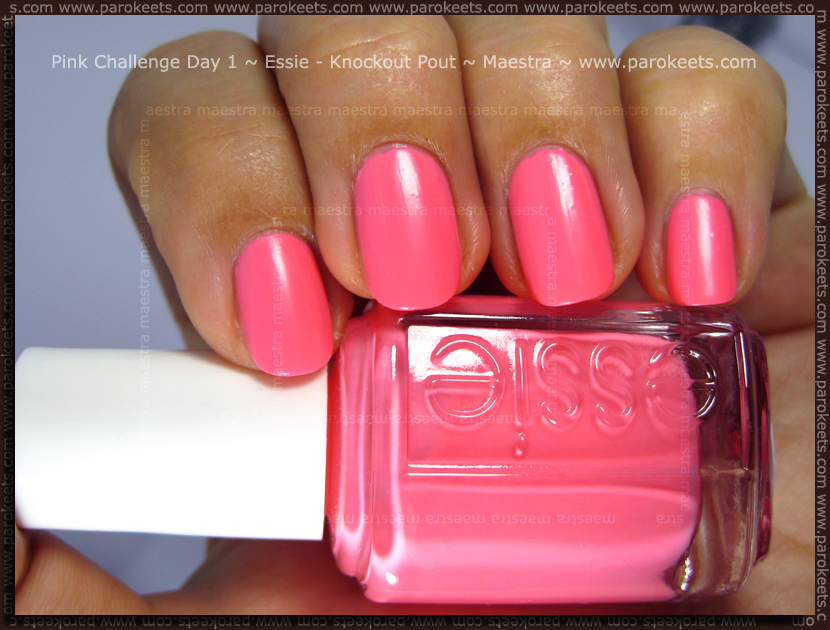 Here are the rules:
for entire week you have to publish manicures with same polish;
you can layer, stamp over it, draw nail art … but base polish must still be visible in some way (so no layering black over it).
There were some confusions regarding the rules.
Some ladies thought you have to paint your nails with the chosen pink polish and then for the next six days you have to add something to the manicure. No, you just have to publish a manicure per day for a week using the same pink polish you chose on day one.
And because in the rules there is written that "you can layer, stamp over it" and "base polish must still be visible in some way" I thought that I have to have pink polish always as base for nail art or whatever. No. If I understood correctly, the idea behind this challenge is to use the chosen pink polish in every manicure for the whole week. No rules how to incorporate it in your manicure. It just has to be part of the manicure and the pink has to be visible. And you can also use other polishes with your pink. I hope I didn't misunderstood the rules. And if I did … well, I think no crime done. It's just polish, right. :D
I'll end this post with the links to the lovely ladies that are participating in the pink challenge:
Caroline from Good Lack, Nail!
Gejba from Parokeets blog
Ulmiel from Did someone say nail polish?
Rebecca from Rebecca Likes Nails
Deniz from Emerald Sparkled
Leslie from Polish Art Addiction
Inge from Polish Sis
Sidrah from Beauteous blog
Sarah from Lucky Lacquers
I hope we have some pink lovers that are reading our blog, because this week is going to be epic!!! :D
p.s. I'm sorry I haven't posted my first post yesterday as I was supposed to, but I just didn't have the time nor the energy for posting. I'll post two posts today. ;)