I'm one of those polish-holics that is still not tired of crackles, so I had lots of fun playing with Alessandro Go Magic! Croco Glam LE gold/black set.
Each set consists of three 5ml mini polishes – croco base, croco coat and top coat. So far I already wore this combination twice as full manicure and you can see in the below photo how much nail polish is still left in the bottle.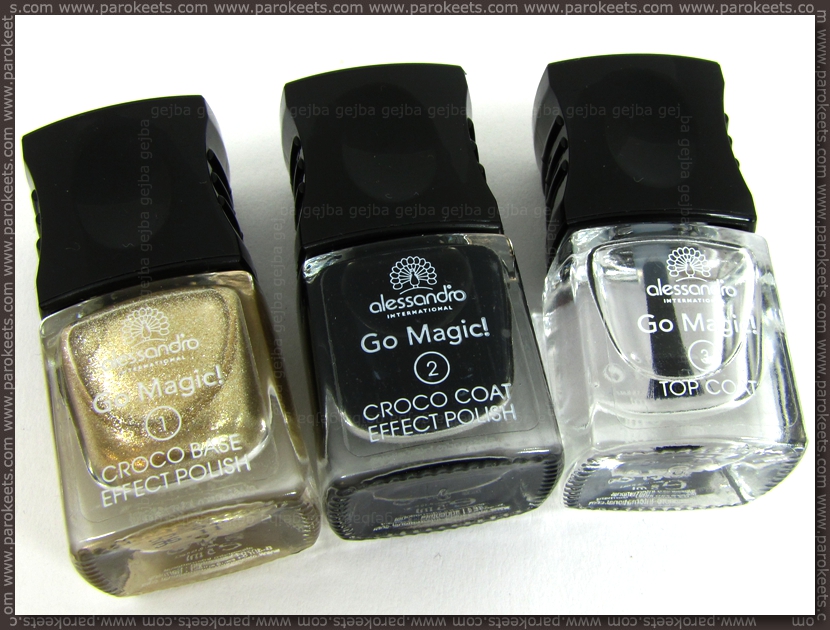 Gold base is very similar to the one from Alessandro Go Magic! Royal Crash set. Only difference that I can see is that gold base from Croco Glam set lacks larger shimmer and is more foil like. I used two coats.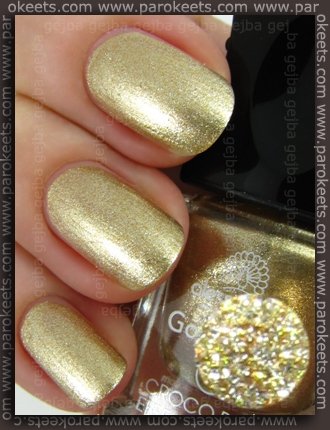 First time I was in a hurry, so I didn't have time to experiment. I used too thin coats and got very tiny cracks. I loved them, but they were not very visible. I'm pretty sure majority thought I was wearing black polish. One thing that kind of surprised me – it takes 2-3 minutes for polish to completely crack.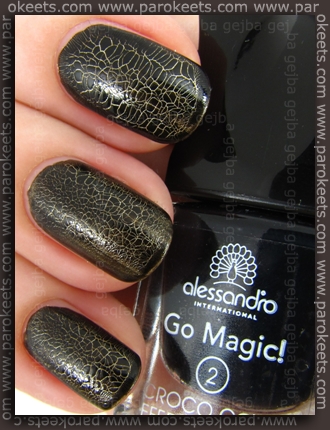 Couple of days later, I decided to use the same set, but this time I applied pretty normal layers. Here are the cracks that I got in my second try: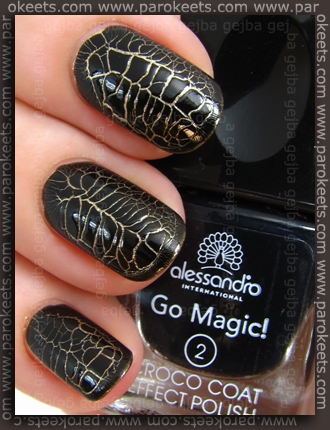 Staying power is not stellar but not bad either. I removed it after 2 days because of the tip wear (shrinkage?).
While I was applying gold base for my second mani, I thought it would be nice to show you this polish in a video. I had good natural light, but finding the right position for my camera/hand … nightmare. In the end I just applied the crackle from really weird (and uncomfortable) position. :D
Price: 14,95 EUR for a set.
How do you like videos like this one? Do you find them interesting or just boring?
*Polishes were sent to me for review purposes.