I first came across the MeMeMe brand when I was in the UK and saw it in a drugstore. I've never heard of it before. The display was nice, the prices something in between. Not cheap but not very expensive either. I only bought two nail polishes.
First one is called Proud and is a dark olive green with strong yellow undertones. As you can see from the photo below it dries darker on the nails.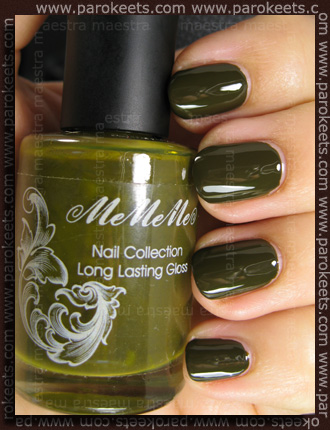 The second one is called Distinctive and it's a light beige with a slight green tint to it. I guess I could label this one as a khaki color.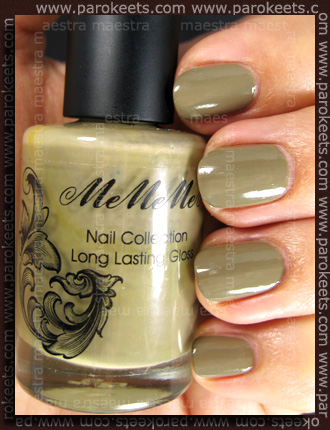 Both shades are a bit unusual and that's why I bought them in the first place. Below is a bottle comparison photo so you get the idea how unusual these two are.
The application was nice. No problems. The only thing I don't like about these polishes is the brush, which is HUGE and that's why it's a bit hard to control it. Other than that, I like the two MeMeMe polishes that I have very much.
As I said before, the brand is new to me and now that it's also available in Slovenia I'm tempted to try some of their other products as well. Especially the highlighters and blushes.
Are you familiar with the MeMeMe brand? Have you tried any of their products yet? Do you have any recommendations for me what to try next?