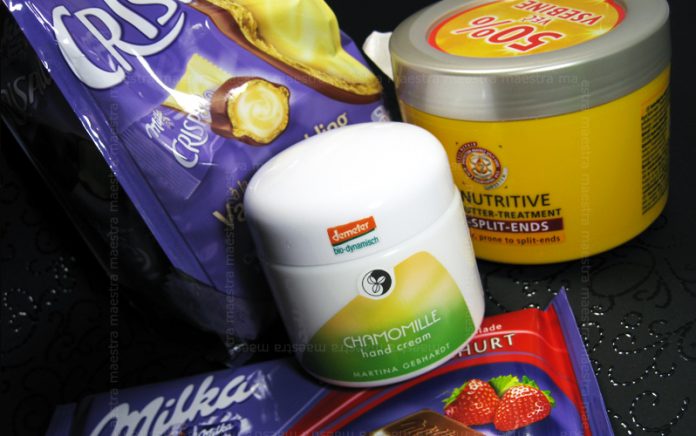 My today's haul looks a little bit like this.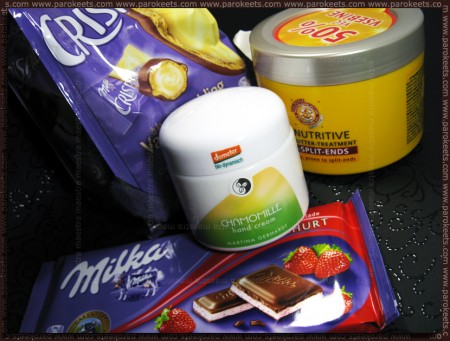 I have long dyed hair, prone to split-ends and it's also very dry at the moment. It needs special care. That's why I again bought the Gliss Kur Oil Nutritive Rapair-Butter-Treatment, which is very thick and nourishing. I love it! I've repurchased it several times in the past few years. And it also smells nice.
Because of the cold and not enough drinking (water ;)) my hands are also very dry. Like super dry. Especially my cuticles are in a very bad shape at the moment. So I needed a good hand cream. While shopping I came across a jar of Chamomille hand cream by Martina Gebhardt. I've never even heard of this brand before. I checked the ingredients list and it looked promising to me. The price is a little bit over 10€, which is not cheap. But there's 100ml of product in the jar and it's a glass jar (which is not exactly a plus, because the jar is heavy). The cream is very thick and it's also greasy, but it sinks into my dry skin quite quickly. I like it so far. I'm not a fan of the smell, but it's not bothering me either.
And for the chocolate fans … One of my favourites … strawberry-yoghurt Milka chocolate.
Which hair treatment is your favourite? Which hand cream do you use when you have super dry hands? And last but not least. What's your favourite chocolate?