Essence Re-Mix Your Style top coats were sold with the speed of light in my country. Fortunately I was able to get them in neighboring Austria.
I bought 5 base colors: Light My Fire, Maybe I'm Amazed, Show Me The Way, Stairway To Heaven (shimmer), Someone Like You.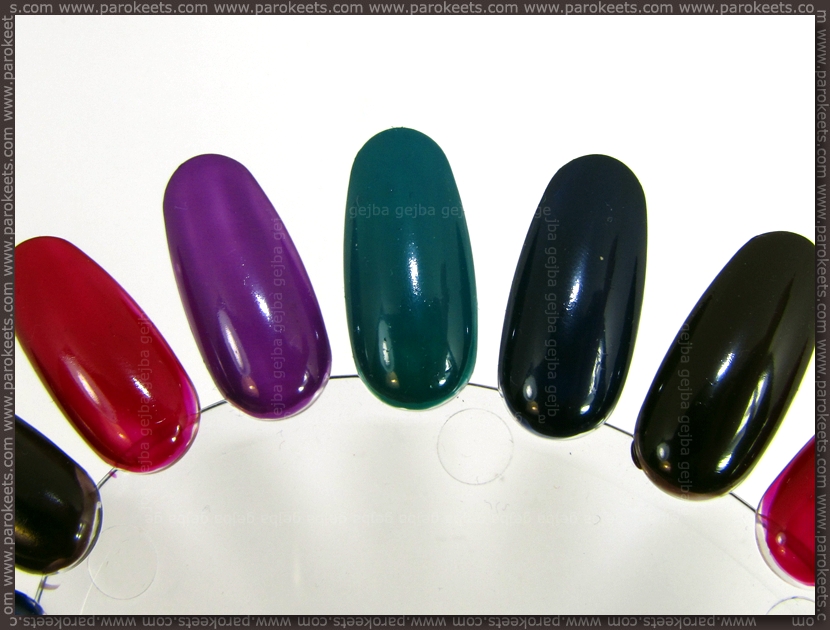 Light My Fire (red) and Maybe I'm Amazed (purple) shades are little more sheer that the rest of the Essence Re-Mix Your Style polishes, but all of them looked perfect after 2 coats.
I layered all 4 top coats over base coats in the same order as in the above photo.
First one I tried out was Waking Up In Vegas aka Dance … gorgeous flakie nail polish. Formula is just right – thick, loaded with douchrome flakies suspended in clear base …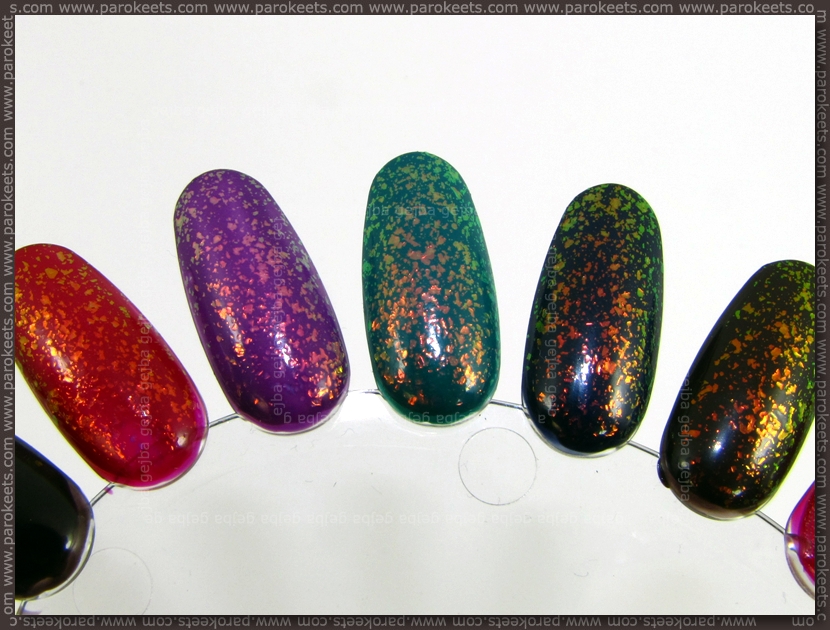 Next one was Feels So Good aka Love. I thought this is pinkish shimmer but it turned out that it's actually duochrome.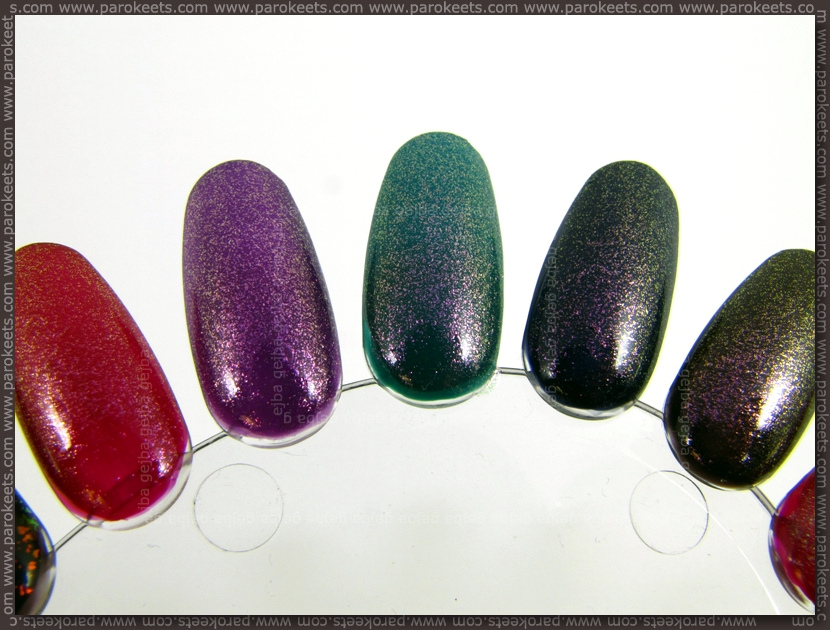 And guess what – Essence actually got it right and Just Can't Get Enough aka Pop is scattered holo top coat.
This is too opaque formula for top coat to suit me, but I still love it just because it's holo. :D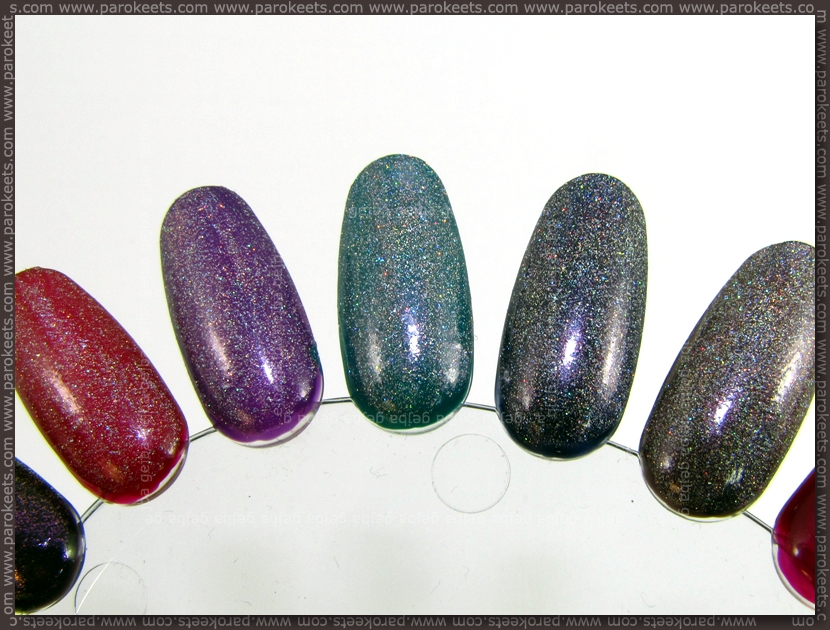 Last topper is called We Will Rock You aka Rock. When I saw it in store, I thought this would be the dud of this collection. But it turned out just as useful as other top coats. This is very, very sher smoky black formula with tiny shimmer. I love using it over other top coats to achieve sandwich effect and lessen the "wow" effect of other toppers.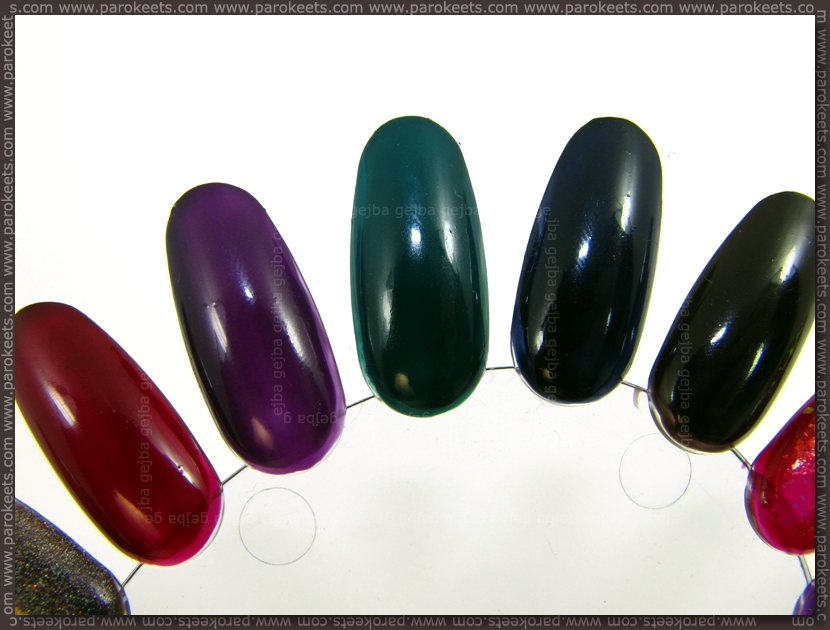 I did manage to swatch few base polishes and few top coat combinations. It was actually pretty funny, but every single manicure I did that day had accident. So I only have photos of those I either managed to photograph before the mishap or the damage is not so bad.
I guess Light My Fire is no brainier as I adore red nail polishes. Very pretty cooler toned elegant red that I'll be wearing again in the near future. 2 coats + top coat.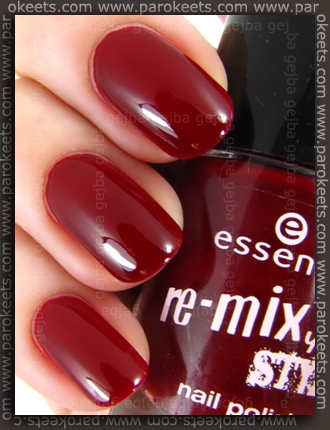 Maybe I'm Amazed is pretty purple shade. Application was a little more demanding with this and Light My Fire polish than other ones from this TE. But I can say it was nightmare or anything along that line. 2 coats + top coat.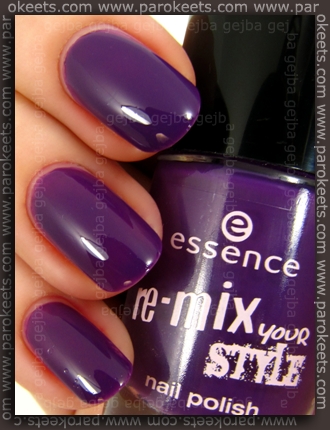 But when you add Feels So Good over Maybe I'm Amazed … wow! What a gorgeous, starkly combo.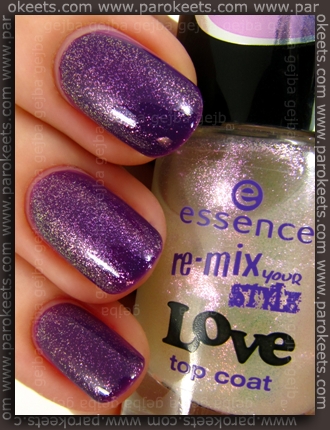 Show Me The Way is blue-green polish that applies beautifully … and stained my nails. Fortunately it was not heavy staining so I removed it completely with help of acetone, vitamin C and washing my hair. :D 2 coats + top coat.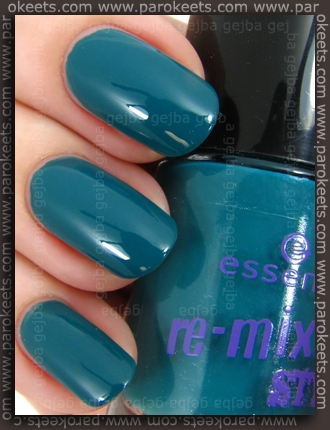 I played around with Show Me The Way and layered Waking Up In Vegas over it and then added one layer of We Will Rock You on my pinkie.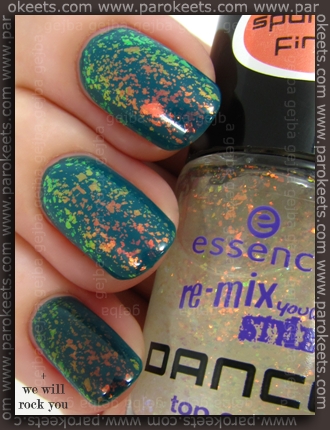 Price: 1,89 EUR (2,7 USD) for 8ml (0.27 fl.oz.)
How do you like the names?
To show you glitter, shimmer and sparkle in Essence Re-Mix Your Style top coats, I made a short video for you.