Essence Vampire's Love TE turned out to be a nice surprise – I love more or less everything I got.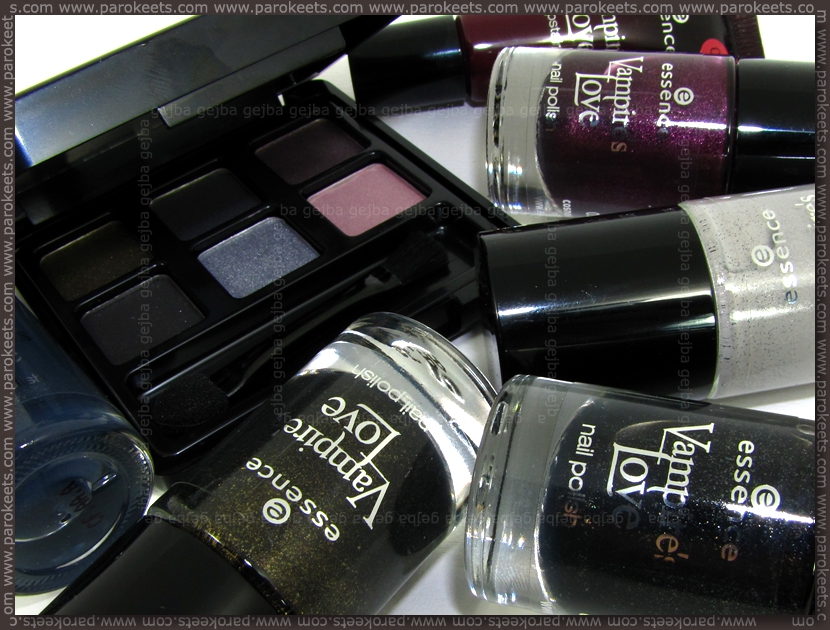 Four of the five polishes are pretty dark shades … just how I like them for the fall/winter time. And it doesn't hurt that they packed them in Catrice bottles (brushes are not the same). I applied 2 coats + top coats in all of my nail polish swatches.
Let's start with my favorite nail polish from Vampire's Love edition – Gold Old Buffy. I absolutely adore this shade – it's darker green, has complex structure and application was also OK. The only thing that I found odd was the fact that the brush is slightly different that in other polishes. We're having bad weather lately so this polish looks darker green than in the photo most of the time.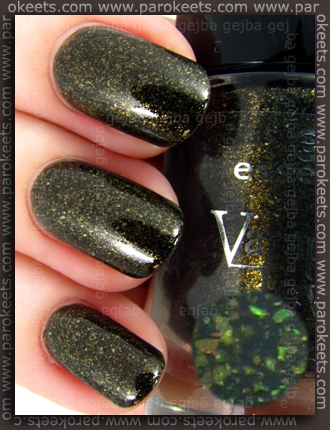 Close behind comes True Love. It's rare to find so pretty purple shade with warm undertone. Look how pretty is this polish.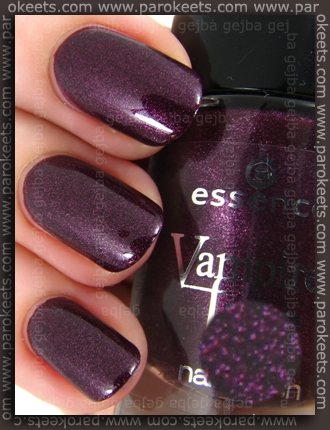 Another great shade from this collection is darker gray-blue polish with lots of silver and purplish shimmer – Into The Dark.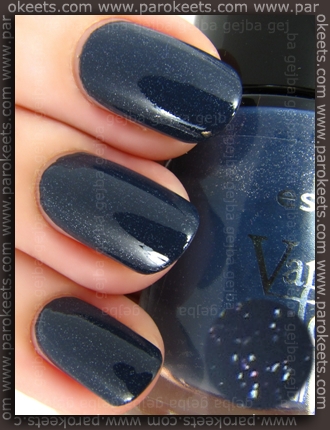 Mamy applied only one coat and no top coat … so you can see how pigmented is this nail polish.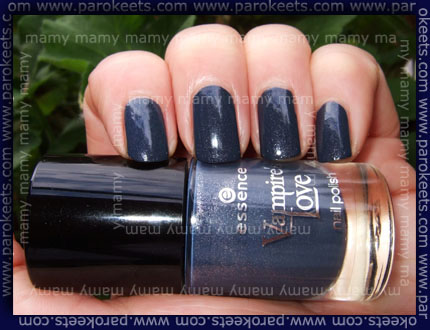 Last two polishes are nice, but not my favorites.
Hunt Me If You Can had black base with multicolored shimmer. But I find Catrice I Wear My Sunglasses At Night to be prettier.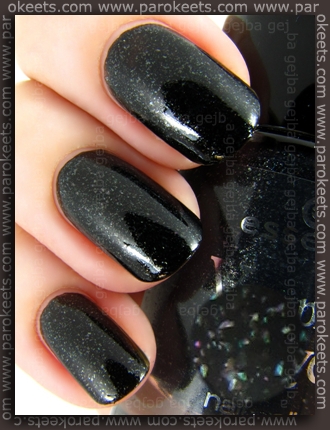 The Dawn Is Broken is the only lighter shade in the bunch. This one was weird to apply – kind of gritty structure. And before I applied top coat I could feel the tiny grains in the polish … same way you feel larger glitter. Light gray polish with silver shimmer and darker particles is nice, but I'm currently not in the mood for this kind of colors.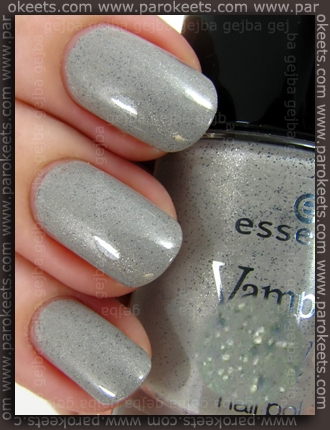 Now lipstains – wow. I loved both of the shades. They are kind of liquidy, so I had to get hang of the application. But once I put it on it stayed there for hours. I applied thicker layer and then left my lips slightly open so the lipstain had a chance to dry evenly. After it dried completely I forgot I even had anything on my lips. It fades pretty well – I smudged outline with finger so there was no harsh line. 01 Bloody Mary is cooler purplish tone while 02 True Love is more reddish pink. Smell is slightly fruity and can be find in many Essence lipglosses. Sponge applicator is not bad either.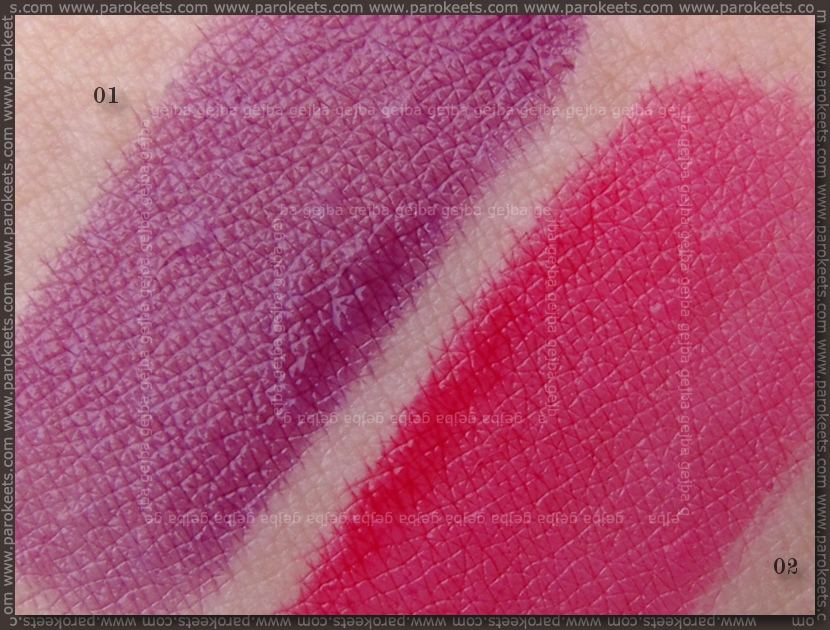 Love At First Bite eyeshadow palette consists of 6 shades (+ not so useful applicator) on one side and mirror on the other. Lightest pink and silver are more or less highlighting colors. Purple and grayish shade are not wildly pigmented but they do have very pretty satin like finish. Black shade with shimmer is one of those matte base eyeshadows with larger shimmer particles. Now darker olive-gold green is (for me) the star of this palette – fantastic color, nicely pigmented and with nice shine to it. I would buy the palette just to get this eyeshadow. :D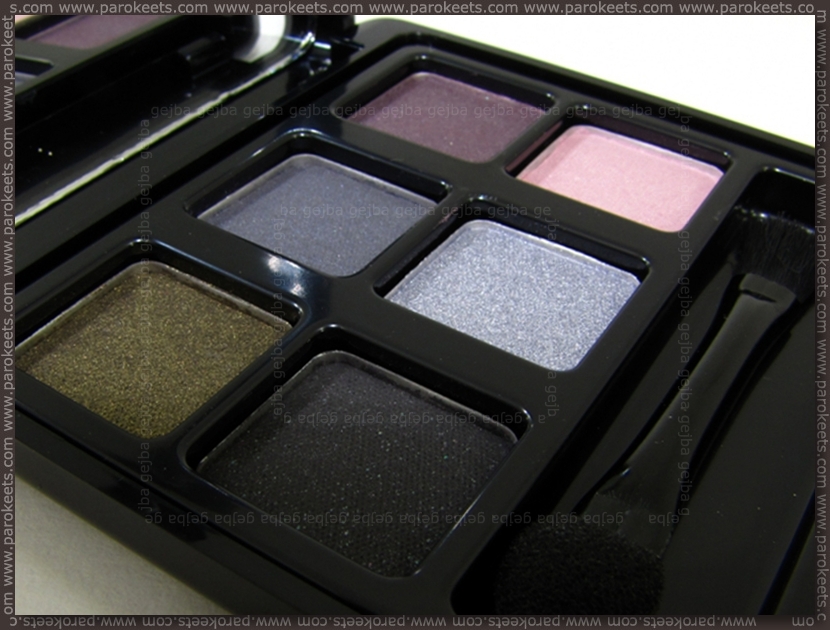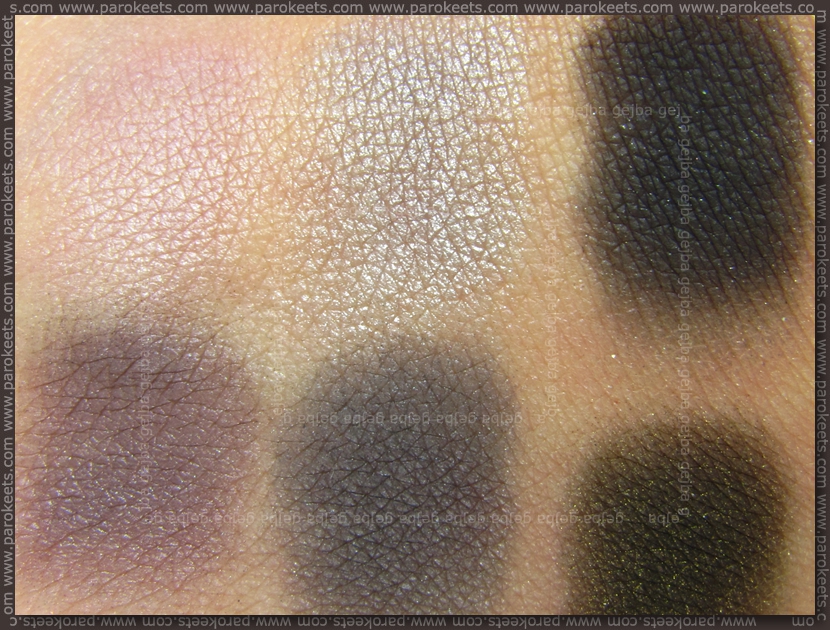 Price:
– polish: 1,79 EUR for 10ml (0.33 fl.oz);
– lipstain: 2,19 EUR for 8,5ml (0.28 fl.oz) 6 month expiration date;
– eyeshadow palette: 3,89 EUR for 4g (0.14 oz) 24 month expiration date.
Video swatches:
Huge for lovely Saša who stood before the full Vampire's Love stand and even though she was in a rush, she called me and got me everything I wanted.
Our Mamy bought Eau de toilette which she finds to be mysterious as collection itself.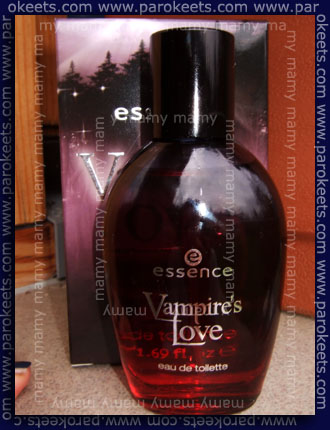 What did you get from Essence Vampire's Love trend edition?