Essence Circus Circus trend edition reached our country. Well, most of it. We're missing one nail polish shade – no. 02 Don't feed the tiger.
Creme part of nail polish duos are fantastic. They're easy to apply and glide onto the nail, are one coaters and I didn't need to use fast drying top coat at all.
In all swatches I used one coat of base polish and one thicker coat of glitter top coat.
Best one is black part of Essence My Sparkling Acrobat duo. Gold glitter? Mnjah – squares, hexagons … Now if the added flakies …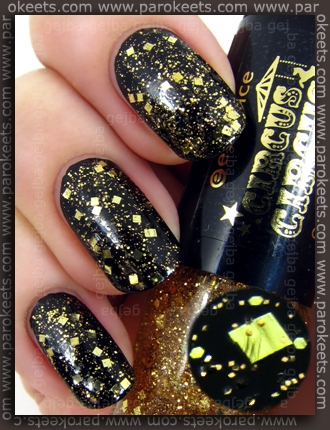 Red combo was probably my favorite. Essence Applause, Applause glitter is more subtle and it doesn't stand out as gold on the black does.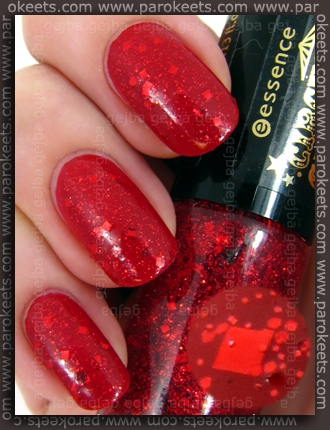 Essence Cotton Candy nail polish duo doesn't have any large square or hexagon glitter, but seems to sparkle the most. :D
Stay all day eyeshadows I simply loved. My favorite color-wise is It's Magic – gold shade. It spreads easily and works great as secondary primer on my oily eyelids.
Essence Raise The Curtain For … will probably be the one that I'll use the most. Color is not as green as on the photo – it's more brownish.
My Sparkling Acrobat I got for my birthday so I already wore it couple of times. I used 2 coats in the below photo, you can see how one coat looks at the video. This creme eyeshadow reminds me formula-wise of Ballerina Backstage Grand-plie in black, but it has longer staying power and lots of fine shimmer. I like it mainly because it deepens the color of the powder eyeshadows I use over it.
While It's Magic is easily applied with the brush, other two seem to need little bit more heat to spread easily … I guess cold weather doesn't agree with them.
Video of individual swatches of each nail polish half and eyeshadows:
Price:
2,75 EUR (3.7 USD) for 2x4ml (0,13 fl.oz.) of nail polish;
2,75 EUR for 5,5g (0,19 oz) of eyeshadow (expiration date 12 months after opening it).
See anything worth buying from Essence Circus Circus TE?